BOULDER COUNTY, Colo.—Hope arises from the ashes, as volunteers with Southern Baptists of Texas Convention Disaster Relief are proving in Colorado.
SBTC DR crews hurried to the Rocky Mountain State to assist survivors following the 6,025-acre Marshall Fire, which destroyed hundreds of homes near Boulder from Dec. 30 to early January. Texas crews worked alongside Baptist DR volunteers from the Arizona, Michigan, Ohio, Kansas-Nebraska, and Colorado conventions at communities in southeastern Boulder County.
Two SBTC DR bunkhouses transported quickly north at the request of Colorado DR are housing workers at operations based at Boulder's Reclamation Church.
Recovery teams from Bonham and Bellville arrived in mid-January and set to work immediately. Their job? To sift through the ashes and help homeowners discover valuables spared by the inferno. Teams also offer spiritual support, praying with survivors.
Sifting through ashes can be a seemingly fruitless task
"Seldom do we find what they think is of value," Bellville team leader Mike Phillips told the Texan.
But sometimes they do.
Baby Jesus in the ashes
Chaplain Pat Merrell of Childress described meeting Melissa and Mark, two Louisville, Colo., homeowners helped by the Bonham crew.
Merrell, who had deployed as a chaplain with the Bellville unit, was called to the Bonham crew's site when team leader Monte Furrh realized the homeowner could use a sympathetic ear.
"When I walked up the sidewalk, [Melissa] looked up and a big smile came," Merrell recalled. "She was so excited to see me."
Melissa asked Merrell to "excuse" her for not getting up, pointing to her foot and its cast wrapped in a protective plastic bag. She had broken the foot after the fire. Merrell pulled up a chair and the two women visited.
Melissa said she had grown up in a Christian home in Maine but admitted to drifting away after moving to Colorado, Merrell said. As they were talking, DR volunteers uncovered a treasure the homeowners thought lost forever: the family's manger set.
Tears of joy streamed down Melissa's face after she spotted the manger's intact baby Jesus.
"I just wanted to show you baby Jesus," Melissa told Merrell, cupping the ceramic piece in her hands while Merrell snapped a photo for her.
That recovered emblem led to greater conversations about the Jesus who is always with us, Merrell said.
"He went through the fire just like you have. He has led you out and he is always with you," Merrell told Melissa. After work was finished at their place, Melissa and Mark joined in prayer with the SBTC DR team, who presented them with a Bible. At Melissa's request, they all sang "Amazing Grace" before praying.
"People are receptive to what we are doing up here," Phillips said. "I believe we are planting seeds. When we have a chance, we let them know why we are doing this: that we love the Lord. They are surprised and sometimes relieved that we are willing to talk about God."
More found treasures
Another manger scene was among the lost valuables recovered by Bellville volunteers on January 21 as they continued work near the town of Superior.
The Bellville team had split into two crews who worked at neighboring houses. The recovery of a platinum wedding band encouraged one homeowner, but his neighbor, Carrie, was even more thrilled when volunteers uncovered an irreplaceable nativity set that had been made by her grandmother.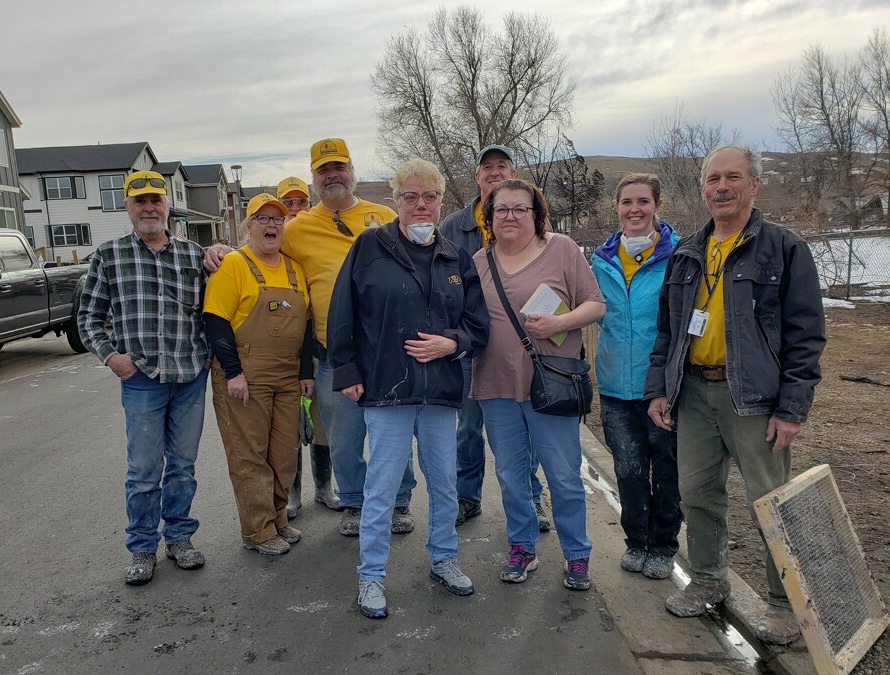 Volunteer Brian Batchelder of Abilene said they were sifting for other items when they held up a piece of pottery that turned out to be part of the manger set.
"She was so elated, and we were elated," crew leader Phillips said. "It gave us energy to keep going."
As the volunteers finished work, the group gathered with the homeowners to give them a Bible and to pray.
"Can I pray for you all?" Carrie asked.
"We don't get that very often," Phillips mused. "She prayed us out of there."
Wet snow swirled about volunteers on January 21, but even so it was a very good day, Phillips indicated. Homeowners who had lost almost everything and the volunteers who came to help were reminded once more about what really matters … and how hope can rise from ashes.
"Jesus used the teams to give homeowners hope," Merrell said after the Bellville crew started back to Texas on Jan. 23.
For information on becoming a credentialed volunteer, visit https://sbtexas.com/disaster-relief/#training.