March winds turned destructive so far this year, spawning tornadoes and spreading wildfires in rural cities such as Jacksboro, Gatesville, and Carbon. Residents, disaster relief volunteers, first responders, churches, and pastors met the challenges of what was a stormy, dangerous spring.
Jacksboro: 'God saved us'
"Is that normal?" Adam Lazarine's teenage daughter, Keslie, asked her dad as the pair sat in the carpool line at Jacksboro Elementary at 3:40 p.m. on March 21. Amid tornado warnings, Lazarine, pastor of Live Oak Baptist Church in Jacksboro, had picked up Keslie at the middle school and was now waiting for fourth-grader Kale.
"You could hear it … a constant roll of thunder. The sky was dark, almost black. A wall of cloud filled the horizon as high as you could see," Lazarine said.
Things were by no means normal.
His pickup sandwiched within a line of cars, Lazarine saw the school principal, Michael Qualls, urging everyone inside. Lazarine started Keslie toward the building and rushed to vehicles behind his to spread the warning. Eventually, he followed the group inside as Qualls notified the cars in front of Lazarine's and hurried to pull down metal storm doors on one side of the school building.
A harrowing video from school security cameras shows Qualls scrambling to reach another interior hallway and shut storm doors as lights flicker and debris flies, milliseconds before the tornado hits, shearing off the roof of the adjacent gym.
"Why God chose me to be in that situation at that time, I don't know," Qualls told Dallas-based KDFW television.
As the doors descended, Lazarine found himself inside a long hallway with students, teachers, and Qualls. Ceiling tiles fell, and the pastor recalled glimpsing the gym ceiling torn away. Huddled inside along the interior walls, the students and adults stayed safe. Lazarine's background in sports medicine had prepared him to stay calm in emergencies, but his emotions broke as he found his son uninjured in
another hallway after emergency crews arrived.
"God saved us," Kale told him.
"Yes, he did," Lazarine replied.
Even weeks later, the pastor's voice cracks in the retelling. He praised both school and city officials for their rapid responses, maintaining he did nothing heroic but "just what needed to be done."
Jacksboro is a small community, emphasis on community … where everybody knows everyone's name. The principal thanked Lazarine for his help, and days later, Sunday, on the courthouse lawn, even grabbed him in an embrace. Qualls had seen the video of his narrow escape.
"If you hadn't done what you did, I wouldn't have been able to be where I was," Qualls said.
Lazarine noted many Jacksboro residents who have said their routines inexplicably varied on that day.
"That's God's sovereignty, Lazarine said. "He took care of everybody. But even if God had allowed something catastrophic, He would still be sovereign. He is still on His throne."
Things could have been much different, Lazarine admitted. Throughout the community and even at the church, folks are doing clean up and restoration, but, thankfully, "we did not have to do any funerals," he said. Shortly after the tornado, Live Oak church members started preparing food for first responders, coordinating with city officials. They served many at the church and transported food to the downtown fire department, the staging area for emergency management teams.
A Southern Baptists of Texas Convention Disaster Relief quick response kitchen quickly deployed to the church to assist, as did chainsaw crews from SBTC and Arkansas Baptist DR, who completed several jobs. An SBTC DR laundry and shower unit, with staff, deployed to Live Oak, too. Jacksboro citizens also actively engaged in recovery efforts, clearing roads with their tractors and heavy equipment common to a farming community.
Nine people were hurt and 90 homes destroyed in Jacksboro by the tornado, officials said. No students in school that day were injured. The March 21 storm system spawned more than 25 tornadoes in Texas, damaging 1,000 homes before moving eastward into neighboring states, according to news reports.
SBTC DR crews also deployed to the Gilmer area to assist feeding and tornado recovery efforts there.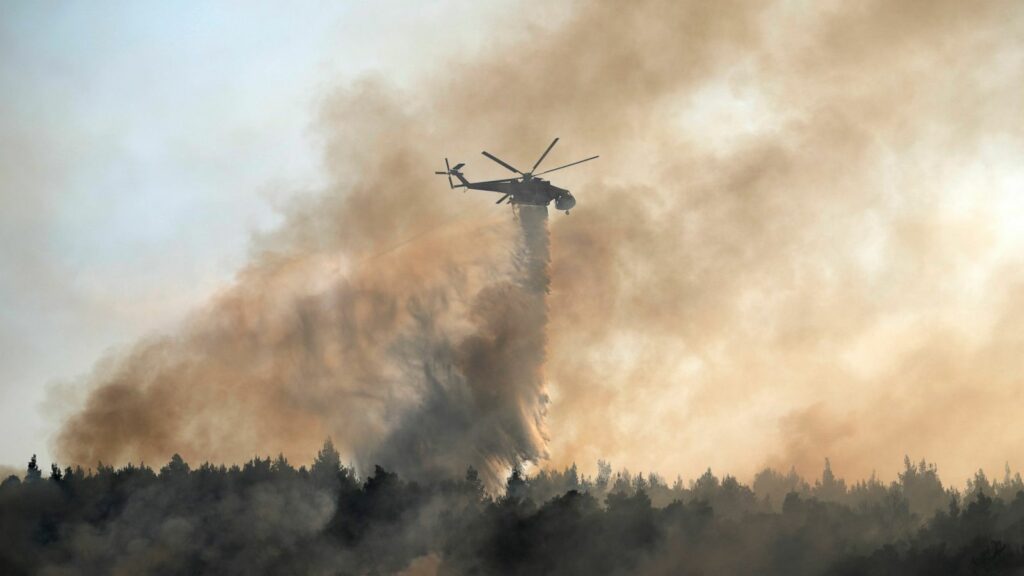 Wildfires sweep Central Texas
Wildfires fanned by damaging winds tore through the dry Central Texas region in mid-March, igniting and re-igniting in sections of Eastland County. Much of the town of Carbon was destroyed. Jody Forbus, who pastors Carbon Community Church, serves as volunteer fire chief, and is the owner/operator of the Carbon Ag & Outdoors store, helped lead local first responders. The business and church became centers for recovery efforts.
Ron Lowe, pastor of First Baptist Church of Flat, near Gatesville, helped transport a trailer and van full of supplies to Carbon, where he spoke with Forbus. Little did Lowe know that very soon, he, too, would be fighting fires. The next Sunday, March 27, Lowe projected slides of the Carbon damage in church and the congregation prayed for both town and congregation.
Church let out at noon, but by 2 p.m., Flat itself was being evacuated, Lowe recalled. Fires raged within a few hundred yards of many church members' homes. Lowe assisted two elderly couples whose homes were near the flames before returning home to gather documents and take his wife to her mother's home in Hamilton.
Lowe returned with bottled water and supplies for firefighters. He found Harrold Baustian, a deacon in his 70s who serves as volunteer fire chief, in the field manning a fire truck. The pastor offered to help; Baustian directed him to extinguish flare-ups, pockets of fire springing up and threatening homes even as airplanes dropped water and fire retardant on the main blaze. Lowe spent a day-and-a-half putting out flares. He has since officially joined the local VFD.
FBC Flat also opened its doors to emergency responders, who staged at the church. Members cooked for firefighters, and neighboring churches generously sent food and supplies. Unity Church of Copperas Cove was among these, as were congregations from Gholson and Belton.
"We were overwhelmed by [help from] all the churches and community," Lowe said. "Firefighters came from California to Florida to help. … The least we could do was feed and nurture them."
It took a village. Or a Central Texas community, Lowe mused. Referencing the Golden Rule, the pastor added, "All the glory goes to God. … He brought us together in unity to be the example of love."