BOSSIER CITY, Louisiana — On a cold January morning in Northwest Louisiana, pastor Terry Young couldn't distribute Bibles to his congregation fast enough.
Young had just challenged his church, Airline Baptist Church, to read the Bible in a year—something he does every January. This year, however, was different. At the end of the service, he shared that the church had purchased 50 leatherbound CSB study Bibles they had found on sale. "If you'd like one of these Bibles to help you make a fresh commitment to reading God's Word, come down during the invitation, leave $20 and take one," he said.
Fifteen minutes later, there were no Bibles left. The following week, the church placed another order for study Bibles with Lifeway Christian Resources. Young made the same offer to his congregation during the invitation, and again, his people clamored for a new copy of Scripture. Now, six months into the Bible-reading initiative, more than 150 church members, including the entire church staff and all the deacons, are reading Scripture every day with the goal of completing it within the year. One senior member of the church, 90-year-old Billy Wood, took it a step further by beginning the Bible in January and reading it all the way through in 60 days.
"In years past, I've had maybe five people take me up [on reading the Bible in a year]. This year has been amazing," said Young. "You can feel the difference it's making in the church. The movement of God in our services has been different. The Scripture passages we're reading are coming up naturally in our staff meetings, in prayer times and in offline conversations."
While members of Airline Baptist are discovering or rediscovering a love for reading the Bible, they're also developing a desire to share God's Word with others.
"The feedback we've been getting has been so encouraging," said Rusty Richardson, the church's minister of education. "Fathers are buying new Bibles for their entire family, and members are passing Bibles along to their unchurched neighbors."
In one case, a church member who works with students gave his study Bible to a young woman who had just become a Christian at another church. During this exchange, a Muslim student observed the hefty, leatherbound book and approached him to ask if it was a Bible. She shared she had been having dreams about Jesus and asked him to tell her about the God of the Bible.
"This is the kind of story you hear happening on international missions, but it occurred in Northwest Louisiana," said Young. "To hear the testimonies that have come out of people simply committing to read the Bible and letting it impact their lives has been amazing."
Young is quick to credit the Lord for his church's embrace of daily Bible reading, but there are aspects of this year's initiative he thinks God used as a catalyst. Here are six suggestions he provided when asked what advice he has for other pastors and leaders who are hoping to encourage Bible-reading in their congregations:
Provide tangible, "touch and see" resources
Young and Richardson both said having physical Bibles on-hand made a significant difference in their congregation's embrace of committing to read it in a year. In a world where much reading is done on screens, many churchgoers have never held a physical study Bible in their hands. The physical CSB Bibles Airline Baptist purchased helped convey that the Bible is more than just "one app among many" on a phone.
Still, Young says it's important to offer flexibility when considering how people like to engage Scripture, whether that be on paper or a device. He told his congregation to consider the YouVersion app which will read Scripture aloud, transforming one's commute into a quiet time.
Regardless of how people read or listen to the Bible, Young encourages leaders to provide their congregations with Scripture reading guides. Lifeway provides these for free including a chronological plan, an "every day with Jesus" plan that includes daily readings from the Gospels along with the rest of Scripture and reading plans for 90 days, one year or three years.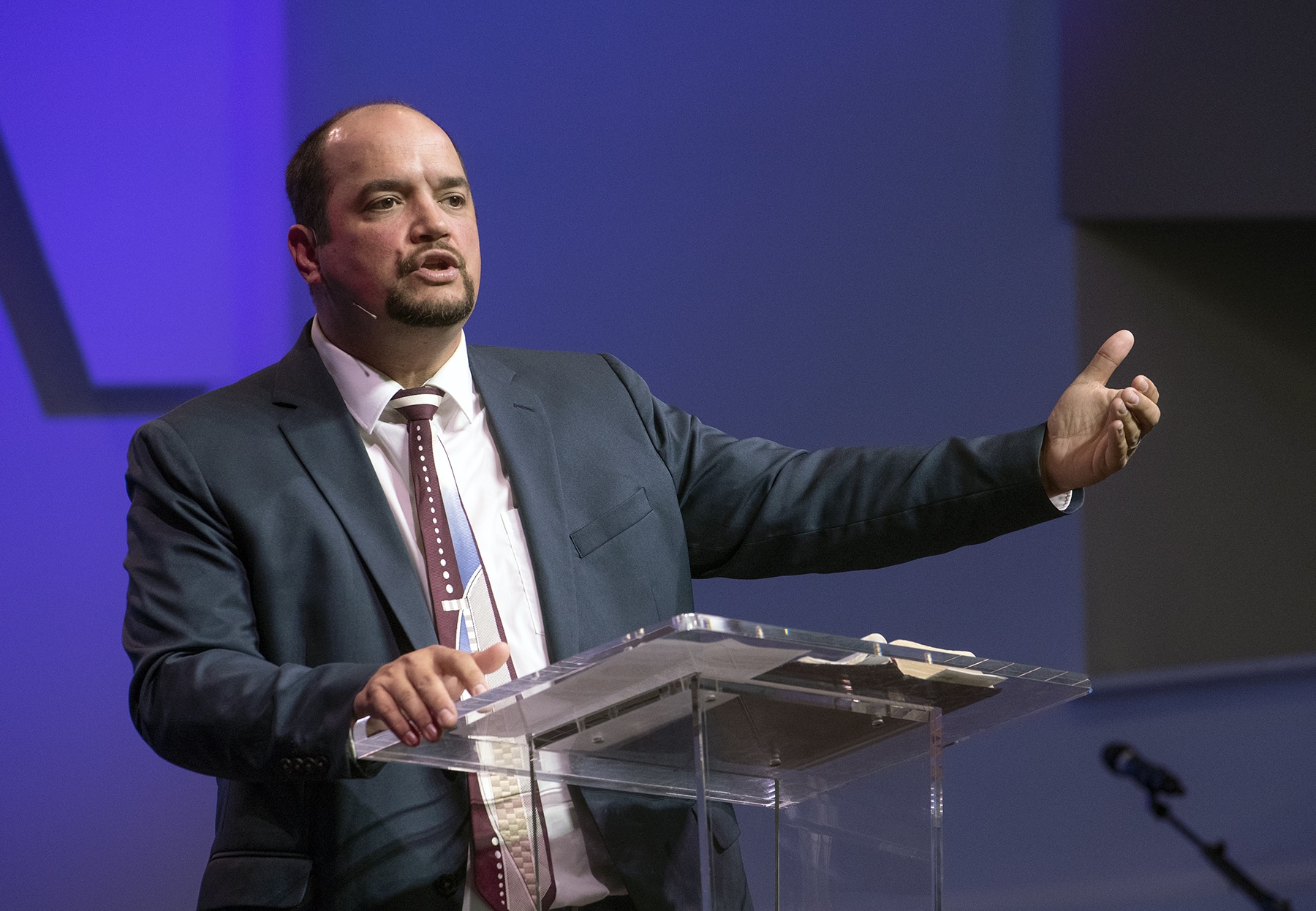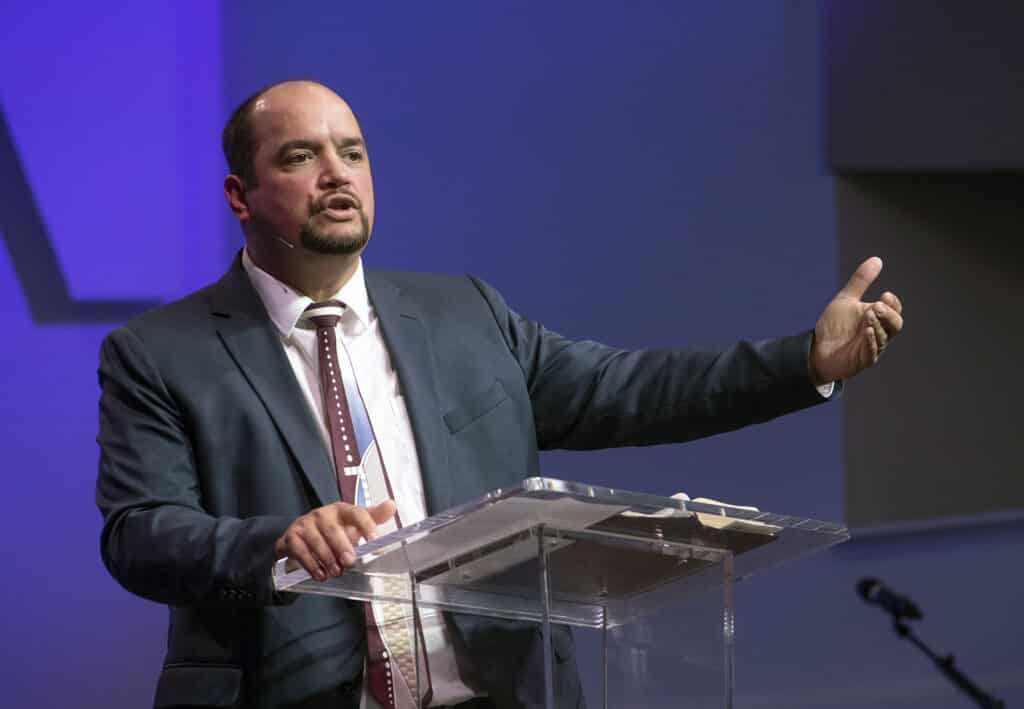 Introduce a new translation or Bible type
For many years, Airline Baptist had used the NKJV translation in its services. So, when Young introduced the CSB and offered it in a study Bible format, it sparked curiosity in his congregation. "Our members are commenting about how they love the CSB version of the Bible. And they love the helps in the study Bible format," said Richardson.
Young also said he uses a different Bible each time he begins a new reading plan to not get distracted by the notes and underlining left from his last read-through.
Give people permission to simply "get through the story"
In counter-intuitive fashion, Young said he encouraged his church members to not always read the Bible for depth. "Leviticus is known as the graveyard of Bible reading plans," he said.
Rather than seeing his church get bogged down in a deep dive of repetitive sections of the Bible like the ceremonial law or genealogies, Young told his members it's OK to read parts of the Bible at a 30,000-foot level. "I told them to press through these parts and focus on getting through the story. Giving our people permission to read certain biblical sections with consistency but less depth served as an encouragement to them," he said.
Leverage circles of leadership
Before Young introduced this year's Bible-reading initiative to the entire church, he began with his staff and then the deacons.
"Begin with a small group that buys in to the initiative and can become ambassadors," he said. "That way, it's not just the pastor saying, 'You need to read the Bible;' it's their Sunday School teacher or a parent. Start with the small, but as quickly as possible, invite the next level of leadership."
Develop a follow-up plan
Young also encourages leaders to have a follow-up plan mapped out from the get-go. "Don't wait 30 days into the plan to begin following up with your people," he said. "Habits—good or bad—form in as little as 21 days, so if you're waiting 30 days to follow up, you've missed out."
Young encourages leaders to inspect what they expect by checking in early and then following up in regular intervals such as in 30 and 90 days and at the six-month mark. And if people have fallen off, tell them to simply jump back in and not worry about catching up.
In following-up, testimonies and good news stories can serve as powerful motivators. Lastly, Young says to lean into small groups, which act as great settings to share how things are going and create accountability.
Pray for your people
More than anything, Young emphasizes the importance of prayer. "Always ask for God's direction and for Him to unfold a love for His Word among His people," he said.
More information about tools to encourage daily Bible reading can be found at Lifeway.com.