QUINLAN—Small town life is good in Quinlan, a community of just over 1,400 in rural Hunt County near Lake Tawakoni. But that doesn't mean Quinlan, as with any community, is free of problems. Grace Baptist Church hopes to address some of the town's issues with the construction of its new multi-purpose facility.
"There are some of the sweetest people in the world in Quinlan," said Eddie Singleton, pastor of Grace Baptist Church since 2018. "It's a great mission field. … God does the picking. I go where He leads me."
"There's no better place than Quinlan to see lives changed," added J.D. Points, the church's volunteer associate pastor. "In Hunt County, there is a mix of problems: racism, drug addiction, mental health issues."
Crime can be a factor. The church's outside air conditioning unit was recently vandalized, as a perpetrator stripped its copper, temporarily sidelining some activities but not stopping worship.
Points, 56, a contractor with his family's company Dalco, said Grace desires to keep growing in numbers to see lives changed. He and his wife, Carey, "fell in love with [the] little church" four years ago, when they moved from the Buffalo Creek community in Heath into their RV on Tawakoni, downsizing from 3,500 square feet to 400.
"We are having the time of our life," Points said.
New pastor arrives
Shortly after J.D. and Carey joined Grace, the pastor, a friend from Criswell College, moved to Georgia, but this did not deter Points and his wife, who stayed to welcome Singleton as the new pastor.
Singleton, 74, who says with a chuckle that Johnny Cash's song "I've Been Everywhere" could have been written about him, had retired four times before coming to Grace, where he and his wife, Carolyn, commute from their home in Farmersville, 30 minutes away.
The veteran pastor served churches in the Hunt Baptist Association, Grayson County, Red River County, and Dallas County, in addition to filling several interim positions, before coming to the Quinlan congregation.
"I never intended to get back into the full-time pastorate," Singleton said. But God had other ideas.
When Singleton arrived, attendance at Grace, which was the product of a merger between the old Bridgeview and Faith Baptist churches some years before, had declined to fewer than 20 on Sundays.
The problem was not in the church's location.
The church occupies a prime corner in Quinlan at the intersection of highways 276 and 751. Attempts to sell the property for several years fell short and the church remodeled the worship area and decided to revitalize.
Points came about this time, followed within a year by Singleton, who asked Points to serve as his associate.
"He came, we started reaching out," Points said. People came. The congregation swelled to over 100.
Then COVID hit.
"COVID really zapped us," Points said, noting that several COVID-related deaths sadly occurred among the congregation.
Recently, attendance has been again "knocking on the door of 100," Points said. "We are getting younger, too," with families joining.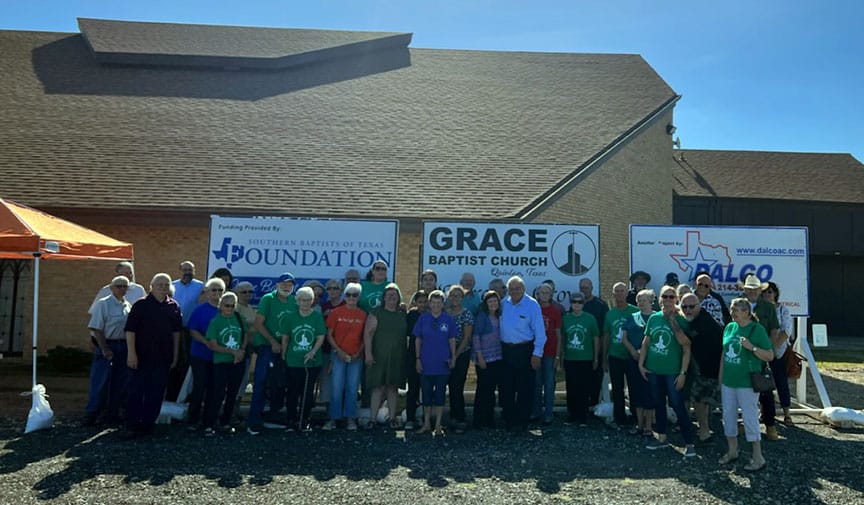 Filling a church and community need
To encourage younger families to attend, and to serve a community need—Quinlan lacks a large indoor facility that teens and groups can use—the church voted to construct a new 10,000-square-foot building for education, offices, and fellowship.
"There will be a kitchen, too," Singleton said. "Man, we wouldn't be Baptists if we didn't have a kitchen. We are excited about it."
"Quinlan has no large facilities that can be used to outsource ministries. It's hard to reach children and youth without these facilities to draw them in," Points said, adding that, following the pandemic, schools are reluctant to let outside groups use their gyms, auditoriums, and meeting rooms.
The congregation's giving toward regular church expenses and the project has been very generous, Points said. With about a third of the funds for the new building in hand, they approached the Southern Baptists of Texas Foundation for a loan for the rest. SBTF responded favorably.
"We made a loan to Grace Quinlan for their construction project," said Michael J. Rhine, SBTF director of church lending, explaining the Foundation's lending ministry: "We make loans to qualified churches to purchase buildings, renovate property, refinance existing loans, and fund the construction of new facilities. We currently have over $96 million in outstanding loans to churches across Texas."
Grace Baptist Church of Quinlan met the criteria for a loan, Rhine added. "The church has a history of reaching the community and had seen growth in its worship and Bible study attendance. The new facilities will allow the church to expand its outreach in order to reach its community for Christ."
Singleton said the Mueller steel building has been purchased and is on-site, and now they are waiting for the crew to erect it as soon as COVID delays allow. Folks from Christian Volunteer Builders are scheduled to help in September with inside finish work. The building project, overseen by Dalco and Points, is expected to be complete by the end of the year, five months after the July 7 groundbreaking.
In the meantime, ministry goes on at Grace—not just church and Sunday school, but outreaches on the current church property in which they bring in video game trailers or bounce houses for kids. As community members see the new parking lot filled with cars for Sunday morning and evening services, Tuesday morning Bible study, and Wednesday evening activities, they know the church is back.
Many have stopped by and commented, "We thought this place was closed," said Points, who added, "They know something is going on."