LITTLE ROCK, Ark.—Easter weekend is a time for family, friends, and worship. For Southern Baptists of Texas Convention Disaster Relief workers, it was a time to serve survivors of the tornados that devastated parts of Central Arkansas on March 31.
Relief teams worshiped on Resurrection Day and found opportunities to pray with survivors and share the gospel—even seeing some trust Christ as Savior.
A rapid response
SBDR groups, along with other first responders and disaster relief groups, headed to Arkansas within days of the tornados. SBTC DR volunteers set up their main headquarters at Immanuel Baptist Church, just off Interstate 430 on the west side of Little Rock, while other SBDR teams deployed to two other sites across the capital city.
The Immanuel site fell under the purview of SBTC DR incident management, led initially by Debra Britt of Flint who, with her team, coordinated the movements and work of 45 SBTC DR volunteers (as of Good Friday) and numerous Arkansas Baptist DR workers, too. This included feeding teams, shower teams, chainsaw and recovery crews, chaplains, and assessors.
Volunteers stayed at Immanuel Baptist's large City Center, a former grocery store purchased by the church and converted into a massive classroom and community space that became a distribution center for food and supplies for tornado survivors. Residents drove up for diapers, water, toiletries, non-perishable food items, and clothing. The large complex offered plenty of room for representatives from FEMA and other emergency response agencies.
Britt arrived at Immanuel on Monday, April 3, and stayed until April 10, when SBTC DR's Mike Jansen rotated in. Jansen supervised the hand-off of the response to Arkansas DR, which will establish a headquarters at a nearby location, said Scottie Stice, SBTC DR director.
Volunteers manning an SBTC DR quick response mobile kitchen prepared meals for disaster relief workers and first responders, while a mass-feeding kitchen cranked out 2,000 meals per day distributed by another aid organization to survivors in the area.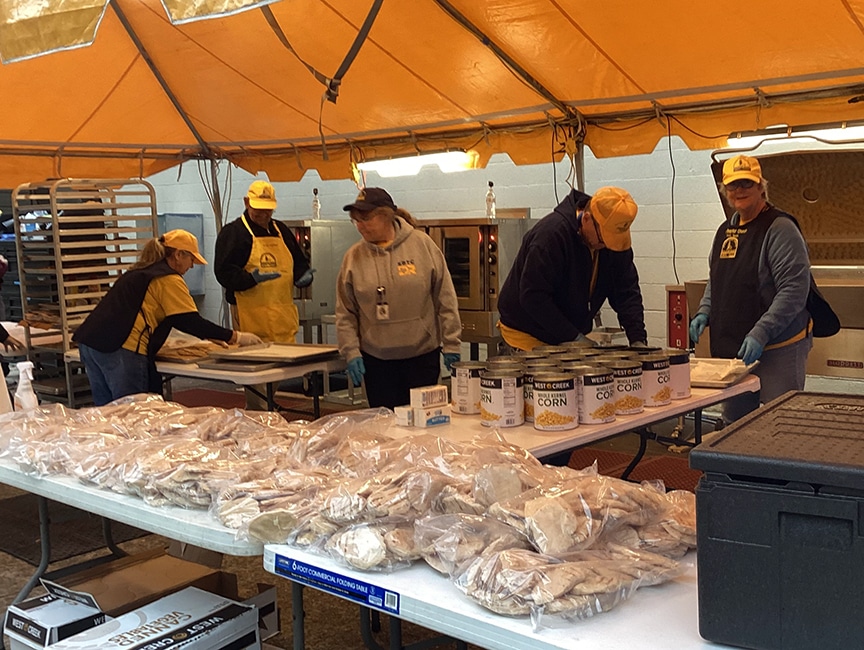 Meeting spiritual needs
Recovery teams, chaplains, and assessors found numerous opportunities to pray with survivors during the one-week deployment, Britt said. Those workers often didn't have to leave the parking lot or the City Center building to minister to those with spiritual and physical needs.
Chaplain David Mehl of Tyler said listening in such situations is key: "You have to listen to people's stories." On the rainy evening of April 5, when work had paused for the day, Mehl found himself with fellow SBTC DR chaplain Jim Carsten in the City Center after dinner when a church volunteer brought a woman to them to talk.
"She told us she was looking for help to remove trees from her yards," Mehl said. Carsten helped the woman fill out the request for assistance. The men noticed she seemed tense.
"I explained that we were not only assessing her need for physical help, but assessing her emotional and spiritual needs," Mehl said. "I told her that people with a faith story seem to do better in disasters."
The woman explained that she had a religious background, so Carsten asked her if she would be confident of her eternal destination if she were to die.
"Yes," she replied hesitantly, adding that she had "tried to live a good life."
"We presented John 3:16 to her," Mehl said. After further conversation, and at her request, the chaplains led the woman in a prayer of salvation.
"She said she felt so much better. She said she had never heard about Jesus that way, not heard a prayer like that," Mehl said. The tension was gone. The woman wanted to see the chaplains again. They reconnected via text the following day and she said she was at work telling her friends what the chaplains had told her.
As of Good Friday, teams had seen three salvations. "We've seen hundreds of ministry contacts and passed out a lot of Bibles," Britt said. "Because City Center is a distribution point, we have been able to establish chaplains at drive-thru lines. They talk and pray with people coming for food and miscellaneous things. It's really beginning to hit home how bad things are. People are very receptive to hearing the gospel."
Operations cease mid-deployment
SBTC DR operations halted abruptly on Monday, April 10, following two reported cases of COVID-19 among Texas volunteers, necessitating shutdown protocols.
"One case may be an anomaly, but when two or more cases pop up, we have to cease [operations]," Stice said, adding that both individuals reporting illness are experiencing mild symptoms. Teams had activated enhanced COVID safety procedures after the first reported case. The second case prompted the stoppage.
Of the unexpected shutdown, Stice said, "We had a plan in place and activated it immediately. This is the first time we have had to stop operations mid-deployment because of COVID, although other state DR teams have had to do this over the course of the pandemic.
"We shut down our feeding operations per protocol and handed off to Arkansas Baptist DR. They mobilized and set up a kitchen the same day and were cooking by April 11. There was no gap in meal service. Commonly, meals would stop for 24 hours while we made such a shift. We did a rapid shutdown. They did a rapid setup. No meals were missed."