East Texas church's children's ministry is not only impacting kids, but entire families
Andrea Anders remembers the moment well.
On Easter in 2022, she and her husband, Isaac—volunteers in the kids ministry at New Beginnings Baptist Church—sat in on the lesson being presented to one of the age groups. As they listened, they began to quietly weep together. 
"Both of us were just sobbing," she recalled, "because they were teaching those children the gospel. It was being taught in a way the kids could understand, but it was not watered down. It was the gospel."
The moment was particularly meaningful for Andrea. The Peruvian native, who met her husband on a mission trip and eventually moved to Texas, made the decision to trust Christ many years ago. But in the years that followed, she said she was not exposed to solid biblical teaching and, as a result, struggled to grow in her faith. The mother of three boys remembers telling her husband, "I don't want my boys to be 30 years old like I am right now and saying they don't really know God." 
Those concerns have been greatly alleviated due in large part to how the Lord is working through the kids ministry at New Beginnings. The ministry, which welcomes more than 400 children (babies through fifth grade) each week on its Longview campus, takes a creative approach to teaching but keeps the gospel at the center of all that it does. 
Nikki Young, New Beginnings' minister of kids, said their approach includes creating themes, similar to what pastors do as they preach through a sermon series, to teach biblical truths. These themes often last four to six weeks, are rooted in historical events or people in the Bible, and include the construction of creative sets and decorations that help set the tone. Those decorations are even interactive at times. New Beginnings also has a campus in nearby Gilmer, and their kids ministry staff is able to create fitting designs for their smaller-sized campus, as well.
For example, one of the themes aimed to teach children about the major prophets in the Bible, such as Isaiah, Jeremiah, and Ezekiel. To create excitement and engagement among the kids, leaders and volunteers decided to incorporate a baseball theme (since professional baseball is also known as the major leagues). The children's area of the church was transformed to look like a baseball stadium, and dugout seating was created where kids and their families could sit and take pictures. During one day of the series, children were encouraged to come dressed in the jersey of one of their favorite athletes. 
Another recent theme was "Jesus the Teacher." Part of that transformation included creating a school classroom setting with fun, oversized school supplies to help children learn about the various teachings of Jesus. While theming allows the kids ministry to engage children in a way that often excites them, Young said leaders are trying to help them understand that the Bible isn't just a collection of unrelated stories, but an interrelated series of historical events that ultimately tell God's story.
"It still all comes back down to the fact that, we can do all this, but if we're not teaching the gospel through it, we're missing [the point]," Young said. "As our kids ministry team plans out and then executes things, the gospel is still at the forefront."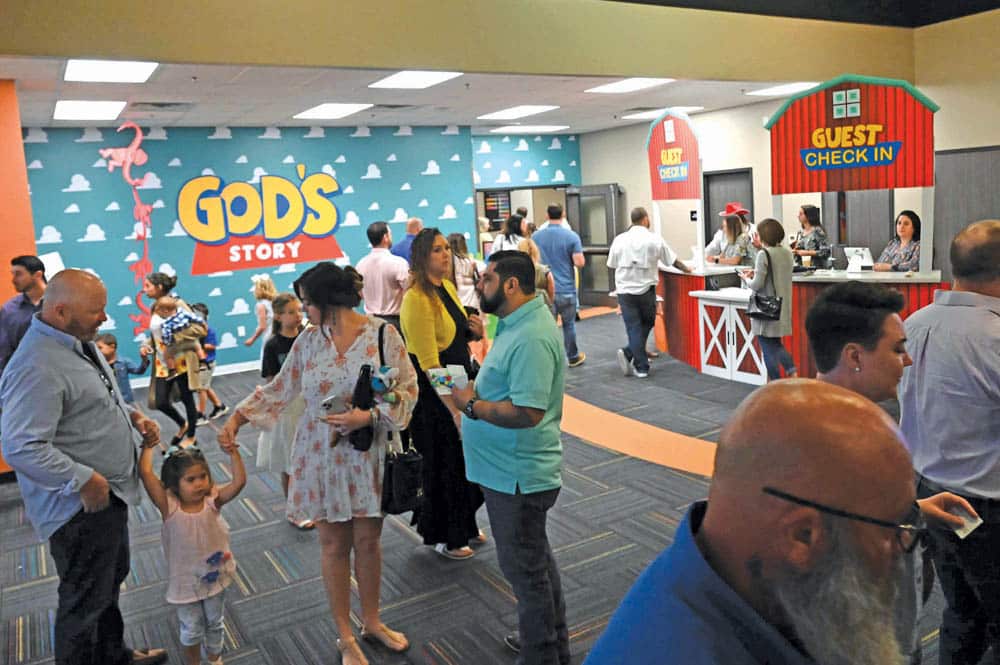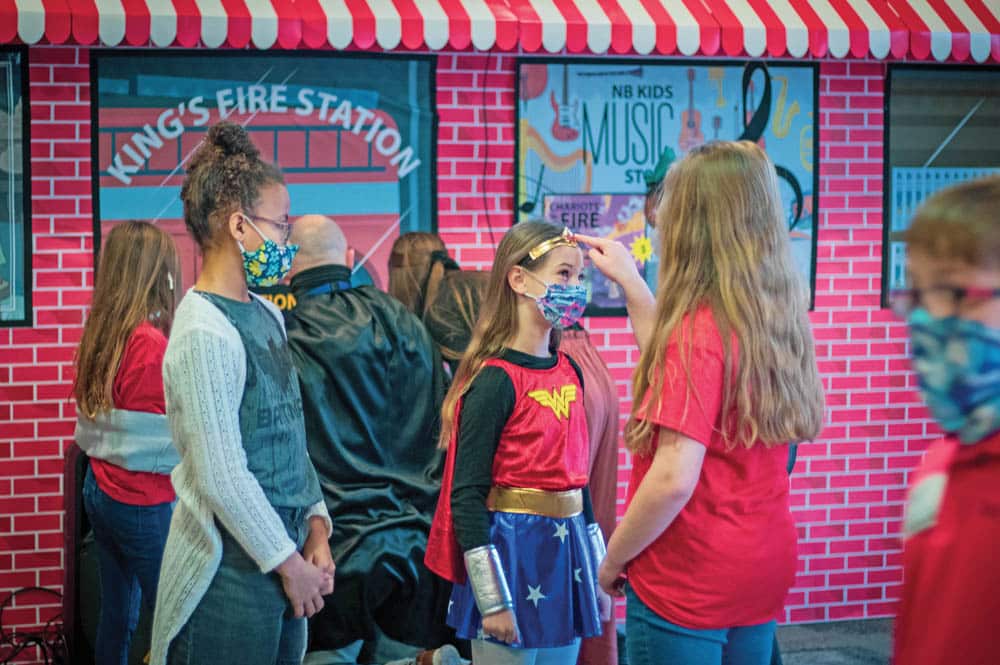 Young admits it takes a lot of work to plan and execute teaching through themes, but the entire kids ministry staff pitches in. The curriculum, which is written in-house weekly, aims to take children entirely through the Bible over a span of years. While that is labor-intensive now, Young said they are saving the curriculum so they can use it again (with tweaks here and there, as they find necessary) once they've completed one cycle through the Bible. The New Beginnings crew also works hard to connect themes to their social media accounts and email newsletters to keep parents updated on what their children are learning.
"These are definitely tools that help us connect a little deeper with our families," Young said. "I think it builds an added level of appreciation from them. They appreciate the extra effort. As parents ourselves, when we see people take extra steps for our own children, it just makes us appreciate and love them more."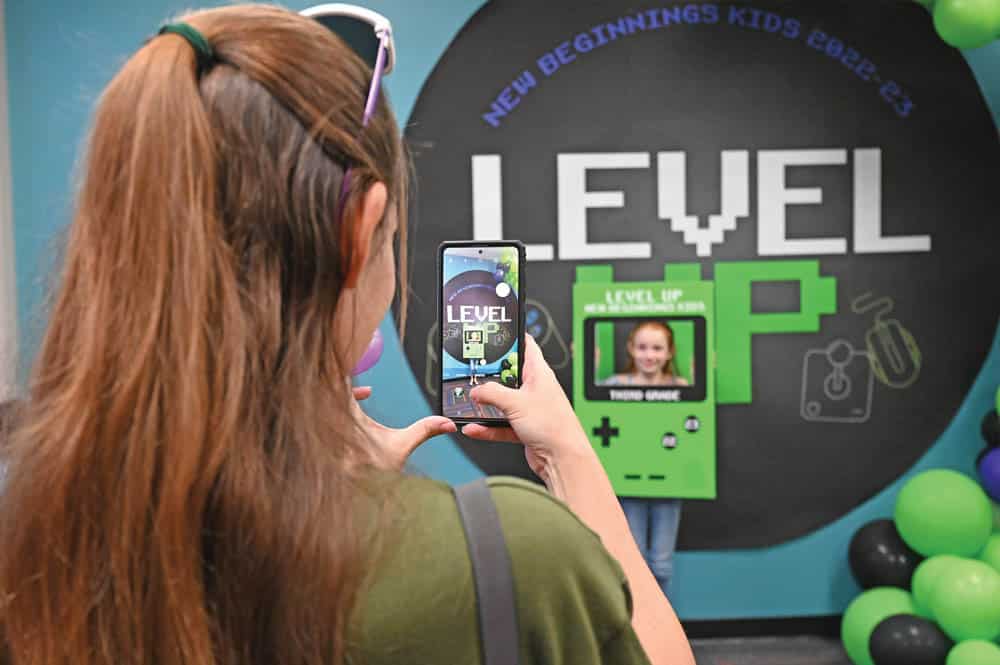 Mr. and Mrs. Anders are among the New Beginnings parents who are grateful. Andrea said the themes, combined with gospel-centered biblical teaching, make coming to church fun and meaningful for her sons. She said her oldest son, who is now 7, came out of the shower one evening last year with news that caught her off guard.
"Mommy, I said the prayer," he said.
"What prayer?" she asked.
"The prayer of salvation," he responded.
"And I was like, 'Wait a minute, how do you know about this?'" Andrea said, recalling the conversation. A few days later, she asked Young if she would speak with him to make sure he understood what it means to trust Jesus for his salvation. 
As it turns out, he did.
"He knew because these truths had been implanted in him at our church," Andrea said. "This church has been planting those seeds little by little. Now that he's saved and been baptized, we've just seen him flourish. He thinks about things [in the Bible] and we talk and he asks all these questions and wants to know more. … When God shows up, He just shows up, and that was confirmation that we were in the right place."