MARSHALL—For many, youth ministry has a distinctive texture: big and loud.
But for John Bailey, student pastor at Immanuel Baptist Church in Marshall, pointing the next generation to Christ is just as much about things simple, small, and subtle. Though it may never show up on a ministry scorecard, Bailey said he gets excited about brief conversations that allow gospel seeds to be planted. He's been encouraged by students who once seemed indifferent to Jesus now showing more receptivity and focus during Bible study.
Bailey even sees progress in the fact that many students who once stayed seated during youth worship times now stand.
"We're not trying to conquer the world," he said. "We're really just trying to make a small difference, and we're seeing little things that have huge effects. What we're really hoping for is that these little sparks will turn into fires that just can't be quenched as students continue beyond high school and through their academic careers."
Bailey said this generation of students is very open and honest about their struggles. While some have an idea about where they want life to take them, many have no direction and don't know what the future will hold for them. While Bailey admits he doesn't have the answers to many of those questions, he finds in them opportunities to share truth: "God has a plan for you. You may not know what that is, but He does, and you can have confidence in that."
Bailey was a student, himself, when someone had an eternal impact on he and his family.
His early life saw him zigzag across much of North America. He was born in Vancouver, British Columbia, Canada, but spent most of his formative school years in Portland, Ore. In sixth grade, he played on a soccer team with a teammate whose dad served as the worship leader at a nearby church. The worship leader invited Bailey's family to church, where they heard the gospel. His parents got saved and baptized within a year, with Bailey deciding to give his life to Jesus two years later.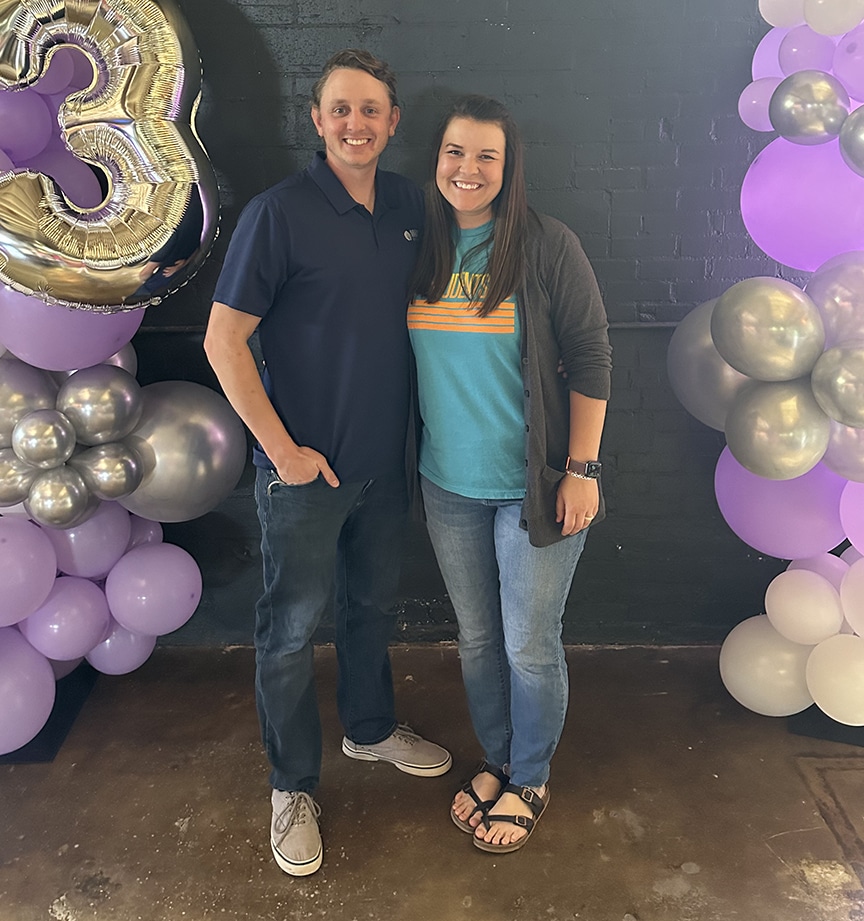 Following high school, Bailey joined the military and served from 2008 to 2013 and, upon marrying his wife, Leah, moved from Maryland to Texas. While in Texas, Bailey interned as a recreational minister at a church in Universal City while working as a San Antonio firefighter. He eventually was encouraged by leaders in the church to visit a Wednesday night youth service where Leah was already volunteering.
Bailey admits he did not feel like youth work was a good fit for him, considering his background in the military and in firefighting. Even so, he decided to take a chance and help with the youth. In the process, he got hooked on youth work.
Before long, a part-time staff position ministering to middle school students opened up at the church and Bailey answered the call to serve—setting the tone for how the Lord would use him upon transitioning to Immanuel in Marshall.
Immanuel is seeing about 60 students attend on Wednesday nights thanks, in part, to opportunities the Lord has provided outside the church. IBC hosts a monthly prayer and devotion time at the local high school, and they also meet in front of the school at the flagpole the first Wednesday of every month. Six students showed up at the first gathering this past spring. They prayed and studied 1 John 4:7-21, about God's love for us and the love that we are to have for one another. By the time the group held its final meeting of the spring, 10 students had started regularly attending.
Through continued hard work and faithfulness to teaching the simplicity of the gospel, Bailey said he anticipates the next generation catching fire for the Lord and impacting a world in ways that can't be measured.
"Just the idea that any one of these students could have an impact on the kingdom is amazing," he said. "We will follow Christ's example and then hopefully these students will go out into the world after high school and have or continue a relationship with Christ that impacts the world."