On Sunday mornings at Amarillo Deaf Church, the worship is loud with bass that deaf people can literally feel. Congregants watch lyrics on a screen and follow by the beat. They mimic the signs of the worship leaders signing the songs. Pastor Darrell Bonjour signs, rather than voicing, his sermons—using an interpreter to translate his messages into spoken words for those in attendance who can hear.
But these are mechanics. What worship at Amarillo Deaf Church looks more like is a group of believers who have broken barriers of language delay and isolation. They have grown in number, grown spiritually, and have morphed into a self-supporting community that does life together as they reach the deaf for Christ.
Growth has been part of the church's story since its beginning. Formerly Paramount Baptist Deaf Church, Amarillo Deaf Church began as an interpreting service with three deaf persons on Easter Sunday in 1980. They expanded into a mobile building where they met on Sunday mornings for deaf church and then went into regular service Sunday nights to interpret. They outgrew the mobile unit and moved into Paramount's chapel, where continued growth necessitated having two services.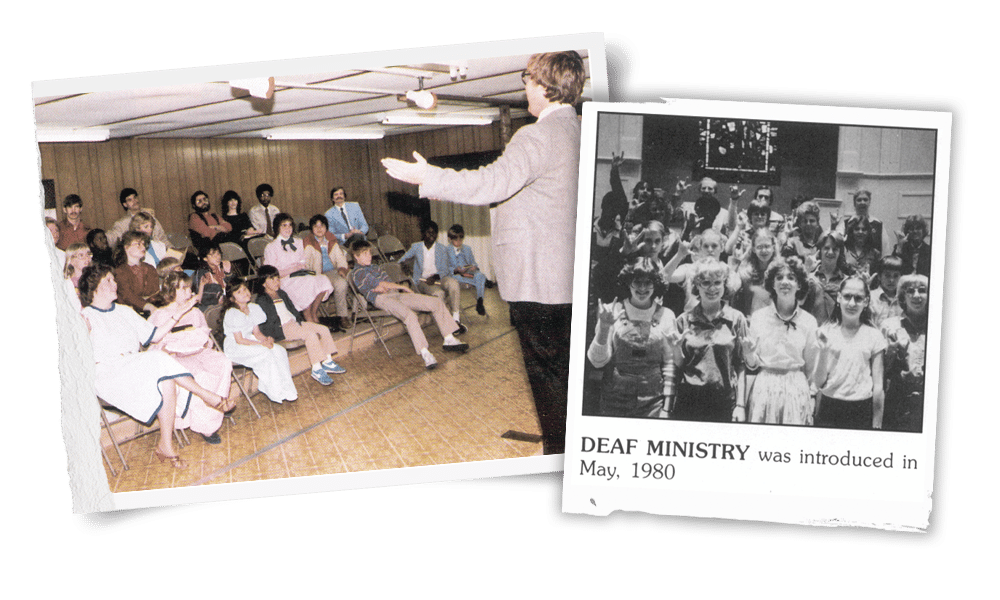 In 1999, they moved into their current building under the mission support of Paramount, and since 2017 by God's grace, Amarillo Deaf Church has been independent, taking care of everything, including property and facilities, salaries, and one another. 
They give as well. When they left Paramount, members and attendees gave $19,000 annually. Today, giving exceeds $100,000 annually. 
"We are actively taking care of ourselves," Bonjour said. "We struggle, but we are making it here." The church has approximately 300 members with an average Sunday attendance around 60.
The church produces the fruit of its labor, with congregants taking the lead. Those who were picked up by the church van as children now lead the van ministry or drive the van. They take care of the building and grounds. They visit. They teach. They fix things when things need fixing. Some of the men take care of the internet technology. A deaf team films, edits, and publishes web content.
They do all these things despite unique challenges. Deaf people can tend to isolate, hiding themselves as well as their children. Some, especially those raised prior to early hearing screenings, have faced language delay—a difficulty in understanding or responding to spoken language. Technological aids such as PowerPoint and the American Sign Language Video Bible, completed just last year, have helped with reading and advancing scriptural knowledge. Job opportunities have also been a challenge in the community. Ministry assistant Melanie Lyons compares the church to the early Christians described in the New Testament: community driven and focused on each other. The deaf are very effective at reaching one another because they share the same struggles. 
"As a hearing person, I get to be there and support and say, 'How can I help you as you go out and reach out to other deaf people?'" Lyons said. "I want to be supportive and help in any way possible. If that means I clean the building so they can do that, great!"
October marks the 42nd anniversary of the church's founding and of Bonjour's leadership; he will retire at year's end. They are celebrating with the theme of "See What God Has Done." Scott Tankersley, who joined the church in 1982 after Bonjour visited his home, will lead as interim pastor, focusing on ministry, while Bonjour serves as an elder to support him. Again, the heart of the hearing people in the church is to help the deaf reach others who are deaf. 
"We love God, we love people, but we also love the Word," Tankersley said. "These three things together are the core." 
Scripture is the focus because that's where the commonality is–within the gospel. The congregation is diverse: original members from Amarillo, folks from Mexico and other countries, those raised Assembly of God, Catholic, Charismatic—and all with varying levels of language experience.
"We want people to become obedient followers of Jesus," Bonjour said. "The gospel is the same. At Amarillo Deaf Church, it's just presented in a different way."