FORT WORTH—The annual Equip Conference, organized by the Southern Baptists of Texas Convention (SBTC) and hosted this year at Southwestern Baptist Theological Seminary, made a little history on August 13.
For years, SBTC has offered Spanish breakout sessions during Equip. But this year, for the first time ever, Equip offered a full conference, including a general opening session, in Spanish—a move that was received with great acceptance and support from the Hispanic community in attendance. The auditorium was packed with Spanish-speaking leaders and pastors looking for ideas to promote revival and growth in their churches.
Equip en Español featured an opening session, a panel discussion to help pastors and leaders be more fruitful in their churches, and a variety of workshops. The conference started with a time of worship, led by SBTC en Español associate Jesse Contreras, who also gave away Bibles and some teaching resources for the participants (sponsored by LifeWay Español).
Chuy Avila, SBTC en Español lead associate and church planting associate, was the keynote speaker of the opening session, where he made "A Call to Spiritual Renewal" highlighting how God's vision is essential for a healthy church. When that vision is ensured, enjoyed and shared, Avila said, God's people will embrace the vision.
Avila also shared the fundamental principles for establishing healthy churches so that a spiritual awakening can occur in Spanish-speaking congregations: the guidance and work of the Holy Spirit (Acts 1:2); the human resource (Acts 1:8); and the intentional prayer of the congregation (Acts 4:31).
The conference also offered a variety of workshops. Cristina Ochoa and Diana Puente led workshops for women, Amanda Gladden focused on children's ministry, Vidal Valentine offered information about Sunday school, and Juan Puente taught on spiritual gifts and offered a workshop for married couples along with his wife, Diana. Additionally, Luis Gonzalez trained participants in evangelism and José Santiago taught about visual solutions for the church.
Jose Pacheco, a pastor and writer, led a workshop called "La Iglesia que Cristo soñó" ("The Church that Jesus Dreamed Of"), which was inspired by the title and theme of his book. The book is based on research he conducted in search of a biblical model that could be used to talk about revitalization. That led him to conduct a study based on the life cycle of the church of Ephesus. The workshop was developed in two parts, which together presented the attendees with a positive evaluation from God (Revelation 2:1-3) that describes the church in Ephesus as a model of a healthy church.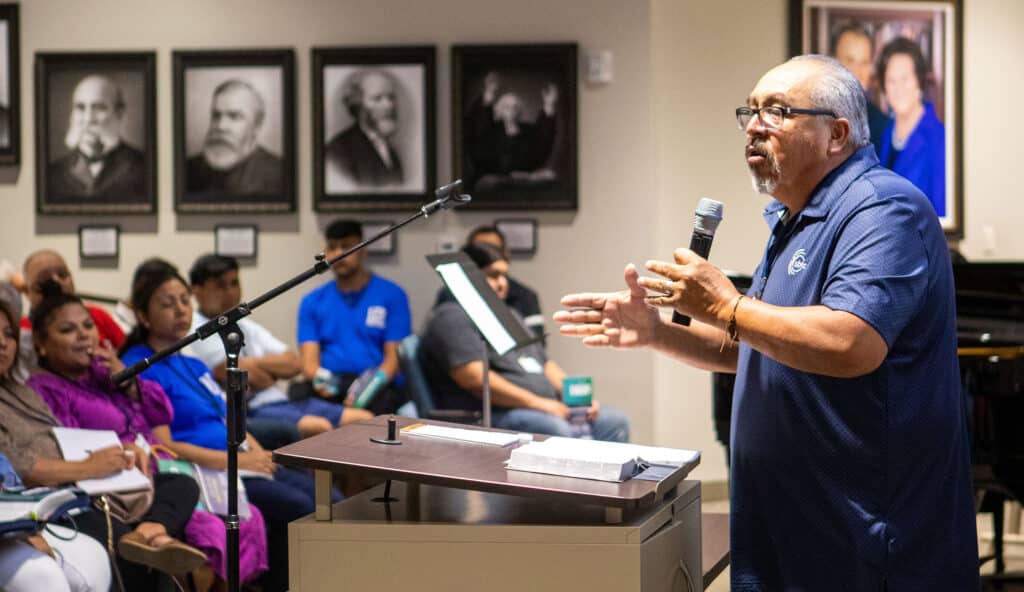 Pacheco also offered a negative evaluation of the church in Ephesus (Revelation 2:4-6), which can serve churches and leaders as a guide for evaluation. He also covered those events and characteristics of the church in Ephesus that can guide church leadership in the process of initiating a revitalization.
The panel discussion was offered during lunchtime, led by Bruno Molina—SBTC's language and interfaith evangelism associate. The panel consisted of Juan and Diana Puente, Gonzalez, and Pacheco. Among the questions presented to the panel were: "How can we help churches see the need for revitalization, and what steps should be taken to begin?"
"Revitalization comes from a leadership willing to ask God, 'What do you want us to do?' and [then being] willing to do things we have never done before," Juan Puente said. Elaborating on the theme of revitalization, his wife, Diana, added, "It is necessary to constantly evaluate ourselves. Changes begin with oneself. The key is to reevaluate what we are doing and where we want to go.
Pacheco shared that when it comes to revitalization, it is important to "remind ourselves what God's dream is for the church, recognize our reality and evaluate, then make a decision—even if it hurts—and always put Christ as the center."
Added Molina: "A vibrant church is like a fruitful tree, that is, [one that grows] character fruits and evangelistic fruits. That should be the mark of a church." Gonzalez said, "We should not wait until the church is falling to take a step. Being here (at Equip) is a revival, it's an encouragement that God is bringing."
The Equip Conference, whose theme this year was "Reset. Replenish. Rebuild" (1 Peter 5:10), is held every year thanks to the SBTC Cooperative Program.