When Cameron Crow preached in view of a call as student pastor at First Baptist Church of Farmersville last November, he gave a gospel invitation, as is his habit.
A couple of female students came forward in response, bringing their friend who was interested in being baptized. Crow sat with the girls for a minute, even while a crowd of people lined up to greet their newly elected staff member. He asked the girl about her salvation and she said she wasn't saved. So the crowd waited as Crow explained God's plan of salvation to her.
Afterward, she shared that she wanted to give her life to Christ. At that point, he spoke to the friends who brought her forward.
"I looked at her two friends and said, 'Which one of y'all is confident to [help her]?' And they both said [they were], so I walked away and they led her to Christ," he said. "My most favorite thing is watching students lead their friends to Christ. Me leading a student to Christ is addition, but students leading their friends to Christ is multiplication, and that's how we're going to see this generation reach their friends."
The student ministry in Farmersville makes evangelism an integral part of its events. Students do the normal calendar of retreats, camps, fun activities, and weekly discipleship. Several students professed Christ during camp last summer, before Crow came to the church, and those students are being discipled and some are ready to be baptized. Their weekly discipleship meeting, called Having A Vision Of Christ (HAVOC), also includes a time for students to respond to the gospel.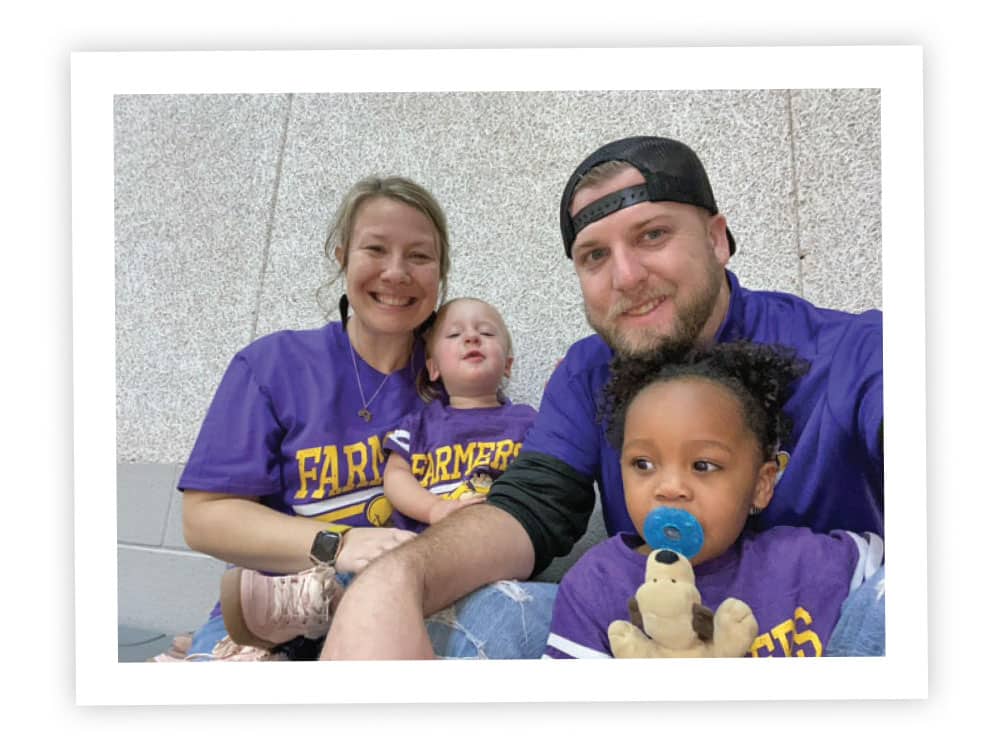 "I'm a firm believer of always presenting the gospel … I don't know how to preach without giving an altar call," he said. "And so, when you're in soil that's been prepped and prepared and ready, it makes it easy to just present the gospel and then watch our leaders respond to those students, watch our students respond to each other, and see new brothers and sisters in Christ."
Crow is determined to integrate evangelism naturally into all that his youth group does together. Students riding in Crow's car to visit homebound members share with each other how they became Christians. Those who visit the weekly HAVOC event share their stories, including whether they have a personal relationship with Jesus Christ.
"If they say, 'No,' or, 'I have questions,' then we immediately stop. God did not bring them in that door so they could play a fun game or hear a Bible study. If they don't know Jesus, we're failing. That could be the only time they hear the gospel and have a chance to respond. It's hard to build a student ministry that is attacking hell with a water pistol if we're not giving students a chance to respond."
Students who are walking with Christ benefit from connections with fellow church members of all ages. The music program of the church, for example, includes a family choir as well as a student ministry music program led by the church's music minister. Crow's team of student ministry volunteers includes those of various ages, some who've served 12 years or more.
"Discipleship is finding someone who is further down the road than you in your spiritual walk and having them come along, or you coming alongside them," he said. "My age range of leaders is up and down the board. It's not just parents of students, it's not just grandparents of students, it's different people all through the church. We need five people within the church speaking into every student's life."
Crow came to Farmersville from Austin and has been excited to find a well-developed and healthy student ministry. His predecessor, Tracy Odneal, served in the position for 25 years. Odneal now serves as First Baptist's connections pastor, a new staff slot for the church. Crow is the third student pastor at First Baptist in the past 42 years. That kind of stability in student ministry is remarkable when an average student ministry tenure is closer to three years.
"Tracy Odneal has done an incredible job. One thing he's done is create a youth ministry that thrives without him," he said. "He was the leader, but on Sunday mornings, he has this incredible group of teachers who gave him a chance, and now gives me a chance, to have that relational ministry with students."
After working with students in large and small towns throughout his ministry, Crow sees promise in the rising generations, even as they face the challenges of their own context, including those that remain from a long COVID-19 disruption.
"Coming out of COVID," he observed, "students, when I sit down and talk to them, they sound and feel physically and spiritually mature, but the ways they respond to things aren't spiritually mature. So it's almost like we've taken a step back a little bit in our spiritual maturity because of that isolation.
"But you're not going to see them being fake," he added. "They're going to be just blunt and honest. But when you get down to the core, they just want to understand their purpose, that they have purpose, and that God cares about their lives."