GOLDEN MEADOW, La.—"Blue tarps everywhere. Piles of debris that were once someone's life. Houses moved off foundations, roofs torn off and laying in yards that are a block away from the original homes. Homes with walls missing, twisted metal that once was a carport or storage shed or someone's mobile home." So wrote Southern Baptists of Texas Disaster Relief volunteer Sue Robinson in late October of the lingering devastation from Hurricane Ida, which made landfall Aug. 29.
Robinson spent five weeks in the Bayou State, arriving in Alexandria with three other SBTC DR volunteers even before Ida struck, to help Louisiana Baptist DR establish a statewide response.
After weeks as an incident management team leader in the Alexandria area, Sue Robinson joined relief efforts in Golden Meadow, where teams from Texas and other states conducted feeding and recovery efforts until the end of October, when operations paused for lack of available volunteers from Texas and other state conventions.
Nov. 7 saw a resumption of that work with Baptist DR recovery teams from the Kansas-Nebraska convention and First Baptist Pflugerville arriving, supported by a feeding team from the Pflugerville church. Other DR volunteers on site include a shower/laundry unit manned by volunteers from Calvary Baptist of Beaumont.
Another SBTC DR recovery crew is scheduled to rotate in Nov. 14 as teams try to complete the remaining 36 job requests from survivors.
The Golden Meadow deployment has been fruitful. Scottie Stice, SBTC DR director, praised not only the volunteer DR crews but also First Baptist Church of Golden Meadow for its outreach to the community.
"The church, under Pastor Matt Chouest, has done a tremendous job of serving the community from the beginning," Stice told the TEXAN.
A large distribution center located in church facilities served as a clearinghouse for supplies for folks in need who did "drive-thru shopping," giving their lists to church volunteers. Church members gathered the needed items from the organized stockpile and loaded goods into cars, a system geared for efficiency and to maintain COVID protocols, Stice explained. The distribution has been scaled back as needs have decreased.
COVID protocols have been observed during the entire Ida deployment, Stice confirmed, noting that SBTC DR teams had ministered in 17 different during the Ida crisis.
In addition to the lengthy Golden Meadow deployment, SBTC DR crews have served in the following locations and capacities: incident management at Forest Hill near Alexandria; laundry and/or shower support at West Monroe, Denham Springs, Minden, Gonzales; mass and quick response feeding at Denham Springs, Gonzales, Houma and Jean Lafitte; recovery work at Hammond and Morgan City. SBTC DR has also rented or provided equipment as needed in New Orleans, Ponchatoula, Jean Lafitte and Houma.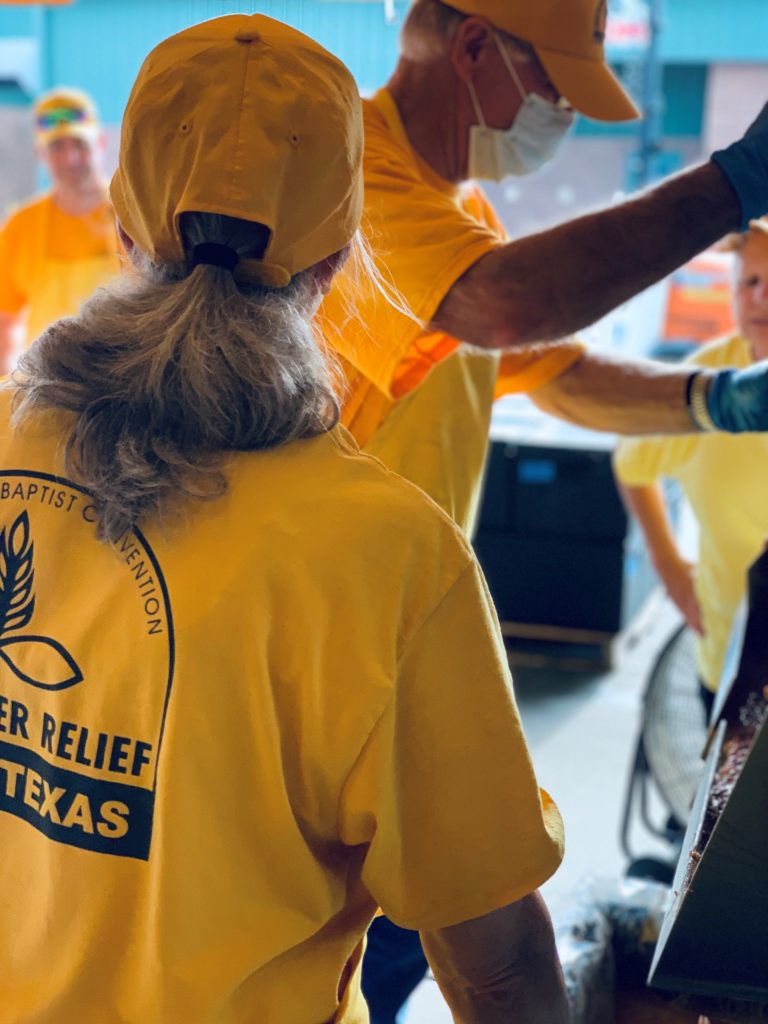 The area near Golden Meadow is scenic, despite the reminders of the recent storm. Shrimpers cast their nets along the nearby intercoastal waterway. The beauty is beyond the physical, however, as many in that area of the Bayou State have trusted Christ as Savior or renewed their faith through prayer with Baptist chaplains and DR volunteers.
"There were seven salvations the week I was there," Stice said.
"Lives are forever changed," Sue Robinson affirmed on Facebook.
"Many unsaved survivors both saw and were told of Jesus' wonderful grace and mercy, with several accepting him as their Savior and Lord," SBTC DR volunteer Joe Hartness also posted on Facebook. "And isn't this what we're about, fellow volunteers? Sharing Christ's amazing love."
SBTC DR Ida response as of Nov. 1