BURLESON—Fifteen people were baptized at NorthPointe Church in one day (Sunday, August 7), and each one had a story of redemption to tell.
NorthPointe has experienced significant growth in the last two years, and it has already baptized 31 people this year. During this most recent baptismal celebration, NorthPointe had one of its highest attendances.
"Baptism is symbolic of the death, burial, and resurrection of Christ," said Landon Dees, NorthPointe's lead pastor. Dees started the ceremony by baptizing two elementary school sisters, Sophia and Anika Young, as well as Kody Grounds and Justin Cox.
Dees also had the opportunity to baptize one of his childhood friends, Josh Bridges. "He [has been] my friend since sixth grade—I've known him for 30 years, and it is an honor and privilege for me to baptize him, my friend and my brother in Christ," Dees said, adding that Bridges has struggled with addiction but has been sober for seven years. Dees noted that Bridges is an example of how God can change people when they put their trust in Jesus as Lord and Savior.
Said Bridges: "This morning I surrendered my life in faith and obedience to God. There's nothing in this world that is able to stand against God. The evil may try, but when you put on the full armor of God and walk by faith, God promises that He will fight your battles. He will make a way when you don't see a way. For almost 20 years I lived in a bottle. I was running from my hurts, fear, anxiety—it cost me absolutely everything. When I lost everything, I didn't stop there, it only got darker. I spent another six years living in that darkness, lost. The man who baptized me today is the same man that has been there the whole time."
Dees has been preaching a series of messages based on the book of Esther, recently sharing how the Lord took care of Mordechai and Esther. Dees encouraged the church by saying, "Today is a day of celebration. Look for the hand of God in every way. Celebrate the hand of God in everyday things. Christians, God will turn the table on the enemy. He will deliver us in the future to come."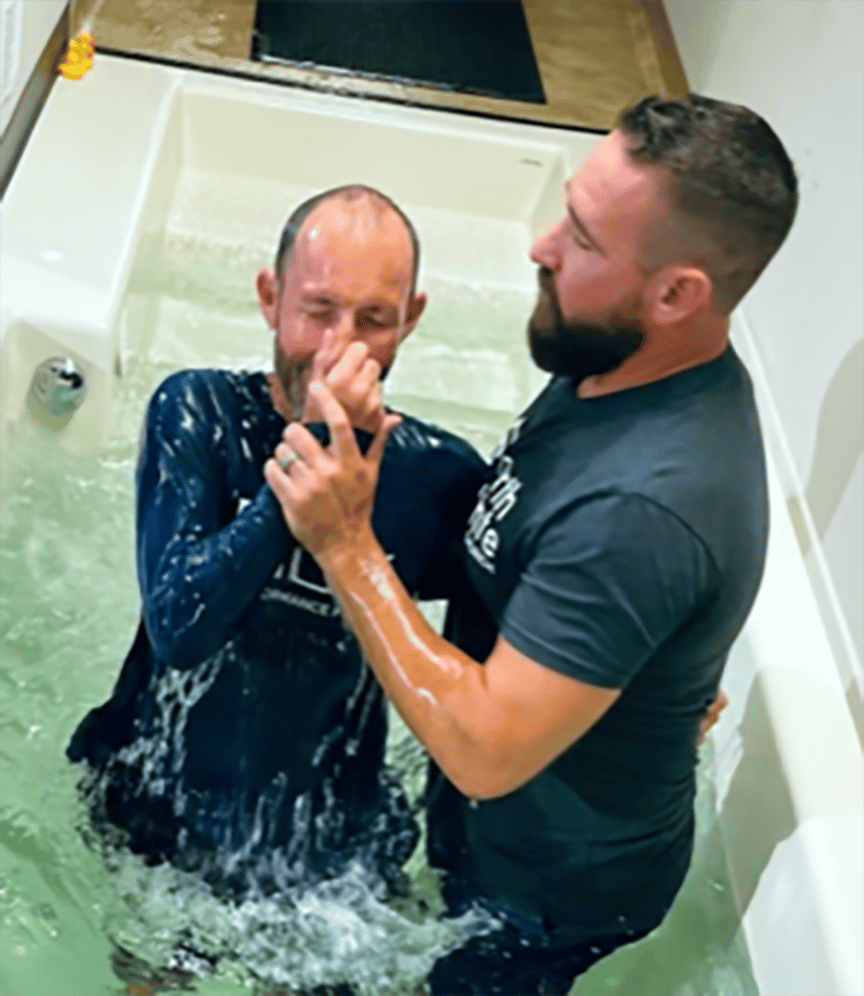 NorthPointe's administration and students pastor, Jeremy Dooley, performed 10 of the baptisms. With tears of joy in his eyes, he was able to baptize his two sons, Ryne and Rayce. After addressing each child, telling them how much he loves them and how proud he was of them, Dooley said to his son, "I prayed for this day since before you were born, and I baptize you as your father, as my son, and as my brother in Christ, in the name of the Father, Son, and Holy Spirit."
Dooley baptized three sisters in Christ and sisters in life—Kaela, Delaney, and Emery Dickerson—who after affirming Jesus as their Lord decided to proclaim their faith and get baptized.
Their father, Dr. Travis Dickinson, a professor at Dallas Baptist University, author, and deacon at NorthPointe, said, "There's perhaps no better sign of a healthy church than to see adults and teenagers getting baptized. It's been such a joy to see this regularly at NorthPointe Church and it was especially joyful that our three daughters were part of that. [My wife] Shari and I have never pressured them to get baptized since we wanted it to be their decision to commit to follow Jesus with their lives. We wanted it to be a big moment, and it was."
Dooley also baptized, Briar Vogelgesang, Michaela Baxter, Hudson Hall, Conway Mcain, and Anthony Lewis.
Because of NorthPointe's consistent growth, church leaders are looking to expand their facilities. Dees asks that all pray that God would give the church clarity and provision as they look to expand their worship center and that they would remain diligent at sharing the gospel and discipling those who are saved.