Carrollton pastor walked away from lucrative investment banking career for something far more compelling—God's mission
Ryan Lee wasn't expected to live long as an infant. 
"He'll be gone within a few weeks," the doctor told Lee's parents of the baby born in Suwon, South Korea. Despite the prognosis, Lee's parents signed paperwork instructing the hospital to preserve their infant son's life, even if he remained unconscious for the rest of his days.
Dr. Billy Kim, the prominent Korean Christian leader and the Lees' pastor, prayed with Ryan's mom in the hospital hallway. "If the baby is safe and well," he asked Mrs. Lee, "will you give this baby to the Lord, so that the Lord can use him as His servant for the rest of his life?" 
Mrs. Lee said yes.
"They were very eager to save me," Ryan said recently. "Really, God touched my body and He healed me." Within a month, against all medical expectations, Ryan was sent home healthy. He not only survived, but today pastors a sizeable Korean American congregation, Semihan Church in Carrollton, focused on planting new churches. 
Before arriving in Carrollton, his journey took him from Korea to the corporate world of New York City and through the oldest and one of the most prestigious Ivy League universities in the country, Harvard. Through it all, Lee has learned that riches fade, but God's Word endures.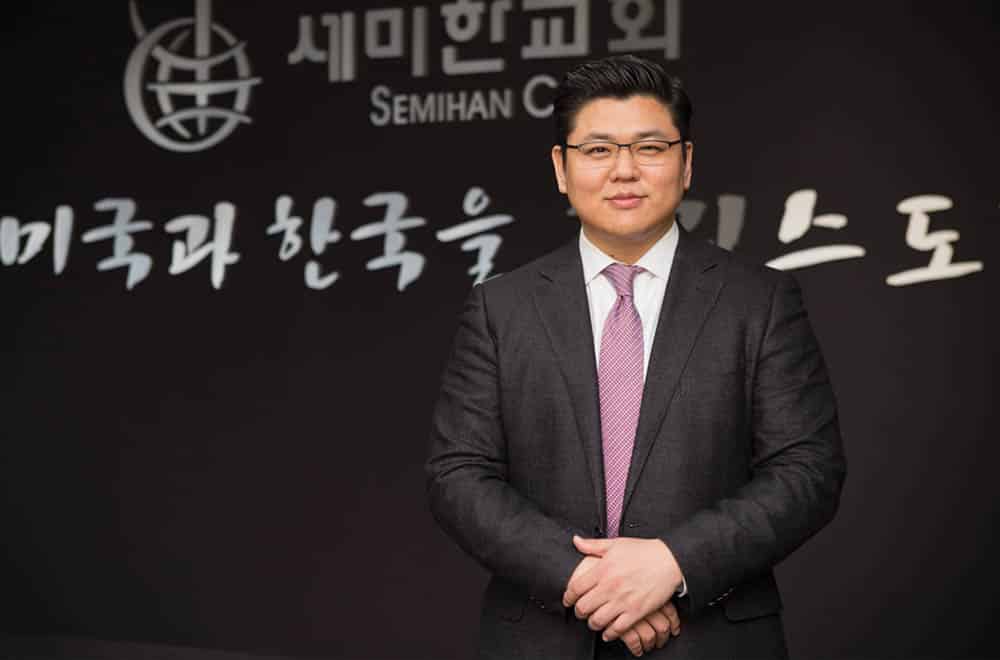 From college to global financial crisis
As a youngster, Lee attended the Christian school founded by Pastor Kim, also a former Baptist World Alliance president who assisted Billy Graham during the evangelist's Asian crusades. The rigorous curriculum, which Lee likened to that of the most competitive college preparatory schools, readied him for further study. 
He subsequently earned a bachelor's degree in political science from Carleton College in Minnesota.
Although Lee had become a Christian in middle school after viewing the Jesus film, the pastorate was a long way off. He returned to Korea after college and worked as an investment banker specializing in mergers and acquisitions. By his mid-twenties, he was earning a six-figure salary with deals, such as his firm's planned acquisition of a percentage of Lehman Brothers, promising much, much more.
Had the Lehman Brothers deal gone through, Lee's bonus might have been $15 million, he estimated. But the subprime mortgage crisis hit; financial institutions collapsed; and the acquisition fell through. Lehman Brothers would soon crater.
"Had I made that deal, I might never have become a pastor," Lee said. "But fortunately, by the grace of God, that didn't happen."
He left banking for Manhattan in August 2008, where a deferred admission to graduate school at Columbia University awaited him. 
That September, Lee learned that Bank of America acquired the last company he had worked for. Equally shocking, one day later he saw former employees—the "best and the brightest"—of Lehman Brothers' New York office streaming into the subway, carrying boxes of personal items.
"Their faces were hopeless; their eyes lost focus," Lee recalled. God brought Isaiah 40:8 to mind: "The Word of our Lord endures forever." 
"The living and active Word of God struck my heart, my mind, my soul. I couldn't move," he recalled. He told God, "I will work for that everlasting Word of God, your Scripture, your kingdom. All other kingdoms—the money mountain, the political mountain, the power mountain—they're all collapsing. The Word of God, the gospel, the Jesus message stands forever."
On that subway train, he once again gave himself to the Lord.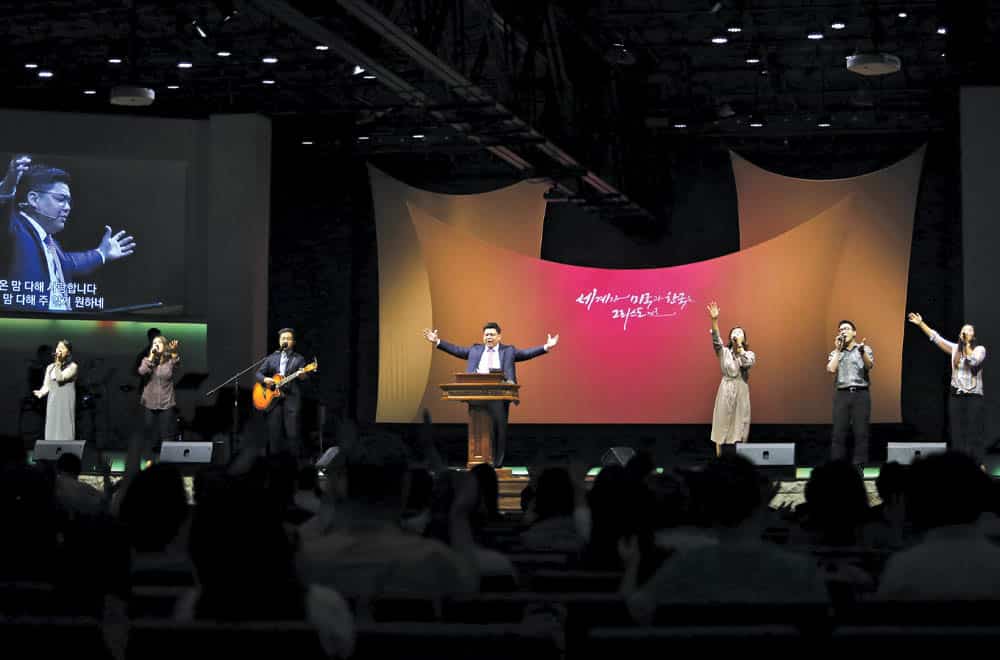 From Cambridge to Carrollton
Fast forward: within a year Lee finished his master's at Columbia. He met and married his wife, Sarah, in New York in 2010. The couple has two children.
While serving in a Korean church in Manhattan during his studies at Columbia, Lee led the welcome team. Using evangelical tools, he presented the gospel to newcomers who were not believers. Many accepted Christ as Savior, and Lee experienced another life-changing moment through what he calls the "true joy" of preaching the gospel.
Even as a successful investment banker, he was not satisfied. Seeing people trust Jesus, confess their sins, and accept Christ as Savior, brought real joy. Lee became wholly committed to a new "life-saving ministry, the gospel ministry." 
Sensing the call of God, he entered Southwestern Baptist Theological Seminary, earned a Master of Divinity, and was admitted to a doctoral program in systematic theology under the direction of Malcolm Yarnell, his advisor.
Instead, Lee chose Harvard—for a few reasons: a full-ride scholarship and he wanted to understand theological liberals and liberalism.
His professional friends, he said, were not friendly to conservative theology or evangelical society, but they were open to liberal Christians, theologians, and churches.
"I really had to deal with liberals at some point," Lee said. "I knew I had to go to more liberal schools so I could expose myself to liberal theology but still steadfastly hold on to the truth of the Word of God."
While he encountered well-known secular thinkers there, Lee said he "became more Southern Baptist at Harvard than at any other place," engaging in debates and discussions, presenting the evangelical perspective. 
After studying religion at the Harvard Divinity School and politics at the Harvard Kennedy School, Lee returned to Southwestern Seminary for a Ph.D. in World Christian Studies.
Semihan Church
In 2018, Lee succeeded founder Lloyd B. Choi as pastor of Semihan Church in Carrollton. The church's name means bringing the world, America, and Korea to Jesus Christ. The congregation is mostly Asian: primarily Korean and Korean American.
Choi started Semihan in 2000 with 14 people. By 2022, registrants to the church's YouTube channel numbered 6,800. Traditional membership, meaning those active in the church's core small groups, numbers 2,000. Between in-person and online attendees, weekly attendance runs over 3,000. The Dallas/Fort Worth Metroplex has about 100,000 Koreans and Korean Americans. 
The church budget has grown substantially, too.
"It's all the grace of God," Lee said.
He added that Semihan is at its core a church-planting congregation, planting churches in Houston and Irvine, Calif., and expanding to a second campus in Frisco to accommodate those coming from that city, McKinney, Plano, Prosper, and Celina. Semihan is also preparing to plant a church in Austin.
The Semihan philosophy is partly adopted from theologian Leonard Sweet's four stages of church life: mission, ministry, maintenance, and museum—a model describing how churches move from creation to stagnation. To Sweet's paradigm, Lee and Semihan have added a third "M" between "ministry" and "maintenance" to keep the church on mission: multiplication.
"The only way for a mega or bigger church to survive and maintain a healthy church is to multiply," Lee said. Multiplication becomes an energizing movement.
"We often say we have to multiply disciples, make more disciples of Jesus Christ, but we don't really say we must multiply church. Church should multiply church," Lee said. 
Thus Semihan's focus, and what keeps its congregation engaged, is a firm focus on multiplication.
And growth continues as a result.