Tornadoes ripped through opposite sides of Texas this week, sending Southern Baptists of Texas Disaster Relief teams, along with other first responders, into the field to serve.
A twister and high winds hit Cass and Miller counties on June 14, damaging homes, downing power lines, and uprooting trees. The National Weather Service confirmed a tornado rated at least EF-2 struck the area.
As temperatures and humidity rose, SBTC DR chaplains, assessors, and a chainsaw crew with a skid steer and man lift began traveling back and forth from their homes in Northeast Texas to assist survivors in the steamy region.
Chaplain Debby Nichols reported visiting with two survivors in Bloomburg, older sisters whose mobile home sustained moderate damage with trees down all around it. The two women were in the home when the tornado struck. After the storm, their nephew—a pastor from Oklahoma—said, "I need a chaplain who is not family to talk to them about Jesus."
"I'm a chaplain," Nichols replied. She proceeded to talk to one of the women and was able to share the gospel. The ladies' names were then given to the local pastor for follow-up.
Paul Easter's chainsaw crew from Mount Pleasant began work in Cass County, helping residents deal with downed trees. Nichols said the work was expected to last several days.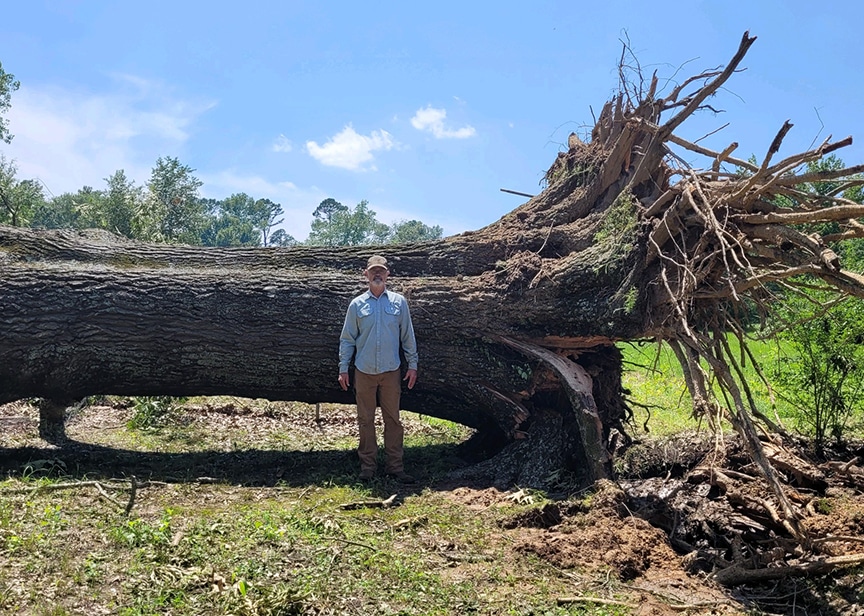 Perryton devastated
On June 15, one day following the Cass County storms, a tornado devastated the town of Perryton in the Texas Panhandle. Three people were killed, dozens were injured, and property was significantly damaged, according to media reports. That night, Texas Gov. Greg Abbott issued a state of emergency to deploy resources and assistance to the area.
SBTC DR volunteers deployed quickly.
"Assessors are on the ground now," Scottie Stice, SBTC DR director, said on Friday, June 16, adding that the QRU (quick response) mobile feeding unit from the Top O' Texas Baptist Association in Pampa was in place. Volunteers had started preparing meals for the community and first responders.
Stice said SBTC DR had also moved in generator-powered crew cooling units since electricity is out across much of the area. Such cooling units are typically used on oil fields and feature evaporated coolers and shaded seating.
"Recovery volunteers and units will go in as soon as search and rescue is completed and emergency management authorities give us the all-clear," Stice said.
Even as Southern Baptists make their way home from the SBC Annual Meeting in New Orleans held earlier in the week, reports are filtering in of wind damage in other parts of Texas.
"We are tracking these reports and will respond appropriately," Stice said.