FORT WORTH—For East Fort Worth homeowner Olivia and her neighbors, that city went from experiencing one of its driest Augusts ever to suffering one of its wettest.
Severe storms on August 21-22 pummeled Tarrant County, dropping 8.41 inches in Fort Worth and 7.72 inches in Arlington, the second highest total amount of rainfall yet recorded in North Texas over a 24-hour period, the National Weather Service reported.
Olivia, a retired correctional officer and preschool teacher, was among those who were ministered to the week of Labor Day by some 15 Southern Baptists of Texas Disaster Relief volunteers. They arrived in the area over the holiday weekend with an SBTC DR recovery unit housed at First Baptist Pflugerville, a shower/laundry unit from the Bi-Stone association in Mexia, and a feeding unit from First Baptist Flint. Feeding and laundry personnel served volunteers, who are staying at the International Baptist Church in Arlington. Chaplains and assessors also accompanied the teams.
Kelsey Melvin, SBTC DR assistant and a volunteer herself, facilitated the use of International, her home church, to house teams. "It's so good to be a part of it and have my church host," she said, adding that Tarrant County marked her first weeklong DR deployment in a few years.
While the work is hard, the days long, the heat and humidity challenging, and the post-flood scent of mold lingering, DR volunteers seek opportunities to make spiritual connections with survivors. Divine appointments are part of the mission.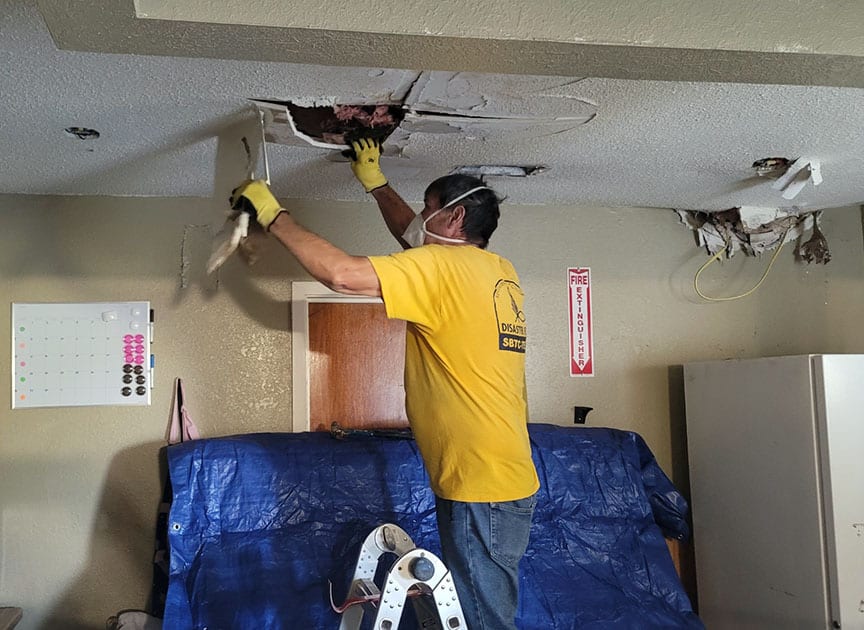 A countenance turns
The storm had left the normally optimistic Olivia downcast when crews arrived to mud out her flood-damaged den. As they removed damaged sheetrock and sprayed anti-mold treatment, volunteers engaged in friendly conversation with Olivia, Melvin said.
"She was stressed out and morose at first, but by the end, we were laughing and talking like old friends. She walked with us and talked to us the whole time," Melvin added, noting that the team prayed with Olivia and that volunteer Jean Ducharme of Del Rio gave her a Bible.
Olivia, who described herself as a churchgoer, assured volunteers she would be staying in touch and checking on them.
Challenging times
For another homeowner, a flooded home came on top of several life-changing events. Among these, the young man, co-owner of a townhome in the West Seventh area with his brother, had recently become engaged.
Teams tore out drywall and helped clear the men's sodden garage. Toward day's end, Melvin chatted with the newly engaged man, inquiring about his faith background and explaining, "We are here as Christians."
The homeowner replied that he had grown up in a Christian school but now wanted to "see for himself" about matters of faith. He admitted he was searching.
Melvin gently affirmed his quest, mentioning that, "We never know when we are going to die," and reminding him of the parable of the prodigal son, who returned home to his father's welcome and embrace.
"That's what God would feel for you if you came back to Him," Melvin said.
"I do need to get it figured out," the young man agreed. "I do want to find what the truth is. Whatever that is."
After their tasks were completed, teams prayed with the brothers. Volunteer Jon Sheppard of Houston described a similar search for spiritual truth he had undergone during college, recommended resources from evangelist Josh McDowell, and gave the homeowner his contact information in case he has further questions.
"I hope that's a step in his journey back to the Lord," Melvin said. "Those transitional times are often when we are more open to hearing from God."
Among other jobs, teams also worked on tarping the roof of the recently acquired worship center of Empowerment Life Cathedral, which suffered storm damage to its facilities. The job illustrates another goal of SBTC DR: to assist local churches in recovery so they can minister to their communities.
Incident leader David Dean of Pflugerville confirmed that teams will work in the area through Sept. 9.
This article also contains reporting from the Fort Worth Report.