I've served Era Baptist Church [near Gainesville] for 50 years. I'm not a teacher. I can show you how to do something, but I'm not the guy to teach a class. I joke sometimes that I'm a flunky, the guy you call when you need something done behind the scenes. 
I started as a contract worker for the Era school district after my employer of 20 years, National Supply—they made oil field equipment—closed down. The job at National Supply covered a lot of different kinds of work, but I liked the assembly line best. I also did a lot of different things for the school district. I drove a school bus for 12 years, cleaned bathrooms and other kinds of custodial work, and eventually supervised the custodial workers. 
Patsy, my wife, has been gone for six years. We were together for 62 years and raised four children. She was from Gainesville, so it was natural for us to move back to the area after I ended my eight-year service in the U.S. Air Force. I joined in 1953 and was trained as an aircraft mechanic. As I traveled from one base to another, I spent some time in Wichita Falls. That's where Patsy and I married and started our family. 
I loved flying as a flight engineer, but that became impossible because of a collapsed lung. Also, our eldest son, Ronnie, had muscular dystrophy and some of the duty stations weren't compatible with his care. Although having a child with special needs wasn't easy, someone told me once that God gave Ronnie to a family who would love him and take care of him. It's always seemed like a special job that God gave Patsy and me. 
The people in Era made us feel at home. Ronnie, who was an eighth-grader in a wheelchair by now, had some classes that were upstairs in the school building. We didn't have an elevator in those days, but the agriculture teacher said that he and some of the boys at school would build ramps for Ronnie if I'd provide the wood. That solved a big problem for our family.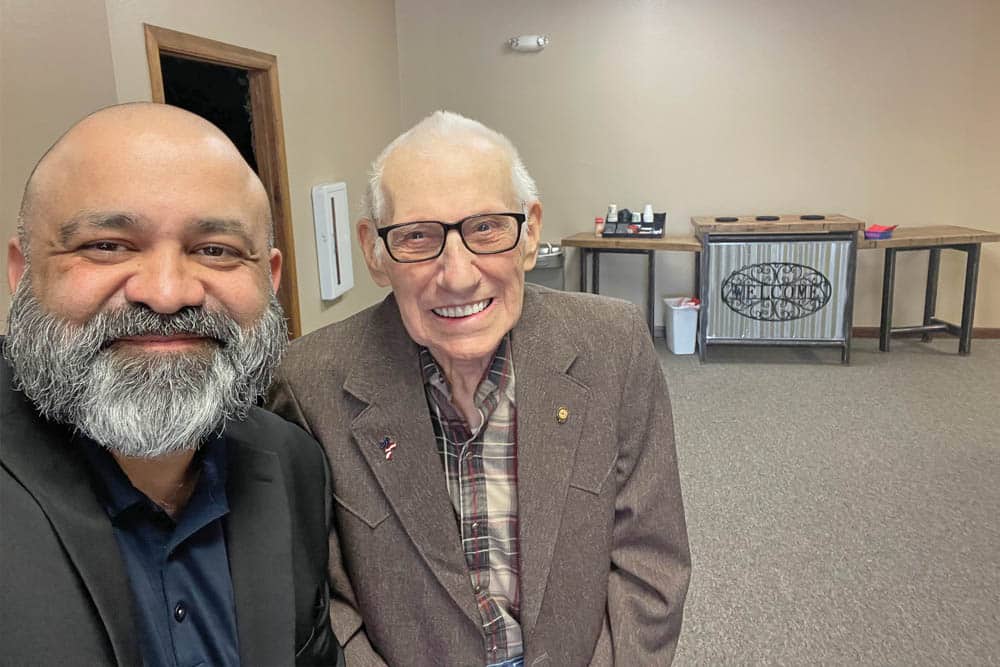 After we moved back, a pastor from Gainesville, along with my father in-law, led me to Christ shortly after I left the Air Force. I was baptized here, back in 1962. Some of the lessons my aunt, who was my teacher at church when I was a child, taught me about God and serving Him stuck with me, even if I had not yet believed. 
We moved to Era Baptist Church in 1973, and I'm 89 years old now. There are some things I can't do anymore. But the church asked me to be a deacon some years back. I'm still a deacon. One of the ways I serve our church is by being an example. When I was approached to serve as a deacon, the pastor remarked that people watched me, that they saw my example and learned from it. Part of that may be that I know so many of the younger people because they saw me at school. 
My pastor remarked about how so many adults called me "Mr. Mode." When he asked one of them if he knew my first name, the man grinned and said, "Mister." They used to call my wife "Ma Mode" because she also worked in various jobs at the school district and was known by the kids. I received a note from a young lady in our church saying she was about to be married. She is the daughter of one of the students who knew me at the school district. I think her mother used to ride my bus. It's a good feeling to have the respect of people so young. 
Although I'm not a Bible teacher, I tell the younger people, "Just watch me," and hope that the way I live is a lesson about how to follow God—what I do, what I don't do. On Sundays when I can make it, I stand in the lobby of the church. Everyone who comes in gets a smile, a hug, and a handshake. I want to make them feel welcome so they can hear about the Lord. 
I've also come to the point that I depend on my neighbors, friends, and church members to help me. Before Patsy died, she wrote a note to one of our friends and asked her to help me with the household business. Our friend came after Patsy died and collected all the financial records and bills and told me not to worry about them. In fact, she helps me with doctor appointments and other sorts of things. Some of the families from the church intentionally make "too much" dinner so they can bring me leftovers. Others will have me over for lunch or dinner. I've been very blessed to have the friends and neighbors I have.  
So, what's my story? God is my boss, and I serve him in any way I'm able. As I get older, I'm blessed to have God's people serve me as well.