It all began during the 2021 ice storm. During that time, Jim and I stayed away from people as much as possible because our daughter was going to have her third son. Jimmy was going to be the one to take care of the kids while I went to the hospital. So, we were trying to stay COVID-free. The storm hit, and Jimmy got COVID, and then I got COVID. But he decided that it wasn't that bad; he didn't need to go to the doctor, and he wasn't going to get out in that ice to do it. Well, he got worse. And on the 19th of February, he went to get an IV treatment. 
Jimmy had a kidney transplant 45 years ago. Because of that, his immune system was almost non-existent. But anyway, the IV didn't help and that night I had to put him in the hospital. It was about 10:00 that same night. I didn't know that was going to be the last time I saw him. I had to drop him at the hospital and go home. None of the family was able to go be with him. He was in isolation.
And then of course I had COVID and was by myself at home. He lived four days. On the 24th of February, Jimmy went home to be with the Lord. The kids could not come be with me because they had not had COVID shots. The Lord provided three sisters in Christ who had either already had COVID, or had the shots, to stay with me and take care of me. At the time, doctors didn't know what strain of COVID I had. I feel like these women put their lives on the line for me; they had families, too. 
They ended up taking me to the hospital four days later. It was February 28. My oxygen level was low and I was in the hospital. My children planned their father's funeral without me. My daughter was in the hospital when her dad passed away because of the C-section that she'd had. We couldn't be together through this time of grief.
The second day I was in the hospital, I was feeling hopeless and helpless, in a fog, shocked. I was talking to the Lord and said, "I've got to have you. I've got to have you." And I remembered that some of the biggest blessings for me are hearing people's testimonies and thought, "Well, what do I have to lose? I could be dying. I'm just going to ask people." So, when the hospital staff came in, I just started saying, "I need to talk. Do you have a minute?" They'd say yes, of course. "Well, I just need to know if you know Jesus Christ as your personal Lord and Savior."
Most of them said they did and most of them told me their testimonies. I did have some chances to witness. Some of my doctors were believers and would actually come and put their hands on me and pray over me. All of this because I said, "I need to hear from God." So, I feel like He spoke to me through these people. On the seventh day, some sweet friends who had already had COVID were able to be in my room so that I would have someone with me during Jimmy's funeral.
Before the funeral started, my friends were praying over me, and a nurse bebopped in and happily announced that I was COVID-free and was able to have others visit with me. Those same three friends who had already had COVID stayed with me around the clock. They took care of my physical needs. They prayed over me. And God healed me. 
I still am indebted to them. All through it, I had my church family, and people were reaching out to me right and left. But that was only the beginning of the struggle. Now, I had to go home alone and face grief without Jimmy. He was my soulmate for 41 years and fellow servant of Christ. My physical provider, best friend, and pastor.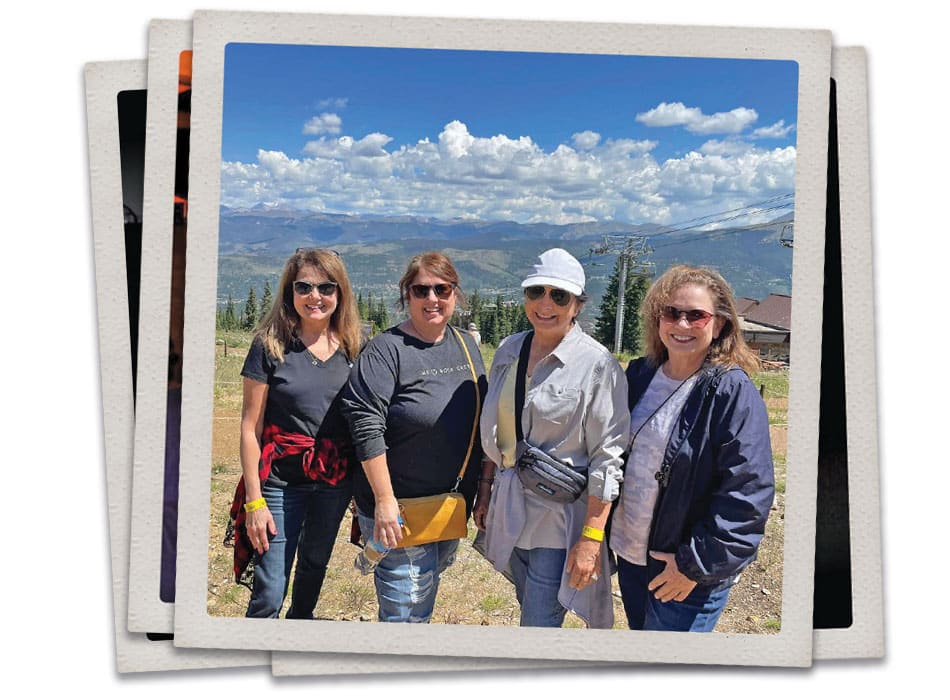 I'm still dealing with grief a year and a half later. But another blessing is from one of my favorite verses, and it's 3 John 4 that says, "I have no greater joy than to hear that my children are walking in the truth." Well, God gave us three kids, and man, they're a wealth of wisdom like their dad. Anytime I reach out to them, they give me very much the same godly counsel that he would. One of them, in one of my days of going through grief, said, "Mom, go to what you know. Go to the foundation."
I started thinking about the foundation of Christ and what He's provided. So I went back to the very first, when I came to know Jesus as my personal Lord and Savior, and I thanked the Lord for that. I went back to his living Word. One of the blessings that God gave me is Jimmy's sermons. I would go back and dig and find sermons that would minister to whatever I was going through at that time. I started asking God to provide for me because I didn't know how to get out of this wave of grief.
A favorite verse is, "Trust in the Lord with all your heart and lean not into your own understanding. In all your ways acknowledge Him and He will direct your path." My understanding was a mess, but I had to trust in the Lord and trust that He will direct my path. I also go back to thinking that His mercies are new every morning. And so I started just praising Him every morning for a good night's sleep. A lot of widows do not have a good night's sleep. I've not struggled with sleep. I asked the Lord to restore the joy of my salvation and He has. 
 So, I'm now back home at First Baptist Forney. My intention is to serve the Lord wherever He wants me. One of the last things Jimmy said to me through his struggle of breathing was, "I fought the good fight, and now I'm leaving it to the next generation." Well, I have a new pastor, and Nathan and Nicole [Lino] have welcomed me with open arms. They pray for me, and they make me feel like I'm one of their own. I couldn't ask for better. 
So, what's my story? I would leave it with this very last thing. And it's the way Jimmy signed everything. It's what he said to people: "Jesus is everything."