'Our work begins across the street'
Amid a remote area of West Texas where serious crimes are a part of life, Immanuel Baptist Church in El Paso continues to impact its city and grow in God's mission. 
Immanuel Baptist Church's (IBC) lead pastor, Juan Carlos "JC" Rico, leads his church to stand tall in serving God and the community where the church has existed for more than 100 years—this despite the challenges they face being in a remote and dangerous place where drugs and human trafficking abound. 
How remote? Currently, there is no Southern Baptists of Texas Convention church farther west in Texas than theirs. Additionally, IBC is closer to the capitals of Arizona and New Mexico than to the capital of the state it calls home. This has not prevented the church from making an impact in this community and around the world.  This church has been able to actively serve through the SBTC and other local and international missionary projects it participates in.
One of the local projects that helps the church reach many people in the area is a private Christian school it founded more than 50 years ago. Immanuel Christian School serves about 500 students, making it the one of the largest schools in the area, serving students from age 2 through 12th grade. The church considers the school one of its strongest ministries and a key evangelistic tool.
The school "helps us a lot to reach others, to grow, and to defend our faith through the Word of God," said Rico, who also serves as a field ministry representative for the SBTC.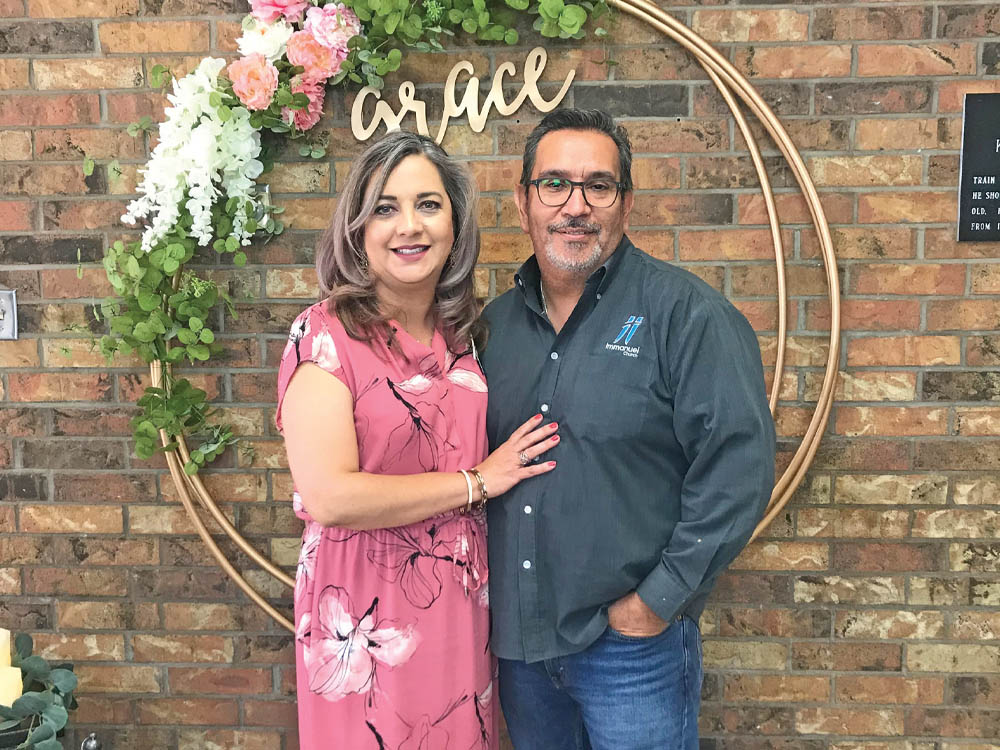 When Rico began pastoring this century-old church, he said realized it needed a plan in place to innovate and re-emerge. One of the things Rico has observed is that other churches in his area are not seeing growth or have even closed their doors. He said he believes IBC has been able to avoid those negative trends because it has evolved, especially in the way it works to reach others. The message of the gospel does not change, but according to Rico, times change and churches need to update themselves to be more effective. 
"We seek to do what is most comfortable for us," Rico said of the mindset that many churches have. "We must learn to reach other cultures, but unfortunately we limit ourselves, either by language, by culture, or by wanting to reach only those who are like us."
IBC considers itself a multicultural and mission-oriented church. A year-and-a-half ago, it started a worship service in Spanish that has already drawn about 60 people. IBC's motto is "Come to Christ, Grow in Christ and Go for Christ," and under this vision, the church works to bring people to Christ, disciple them, and send them out to fulfill the Great Commission. 
Rico firmly believes the size of the church should not impede fulfilling the Great Commission that Jesus left His followers. To do that, Rico says, churches must be intentional in teaching and encouraging the congregation every Sunday to reach out to others. It is important to understand, Rico added, that the church is not a club or a place of entertainment.
His love for serving and reaching the lost began at an early age. Rico, who is Mexican American, says that despite living in the U.S. with his missionary parents and siblings, they attended a church in Juarez, Mexico, throughout his childhood and adolescence. In this church, he was a part of teams that served and evangelized from house to house—which gave Rico a passion for evangelism. Today, that same passion is the engine that drives him to continue serving with his wife Rosie, to whom has been married for 30 years, and their four children.
"Our work begins across the street," Rico said of the church's mission. "I think we've made a mistake in entertaining people instead of offering families opportunities to grow. There is a lot to do, but it all starts across the street from our home. That's where the mission is. That's where it begins."