Multiple tornadoes ripped through North and East Texas and Oklahoma on March 21, on the heels of wildfires that raged in Eastland and Brown counties to the west only days before.
Southern Baptists of Texas Convention Disaster Relief responded to the disasters, moving volunteers into place the day after the storms. They were joined by local community and church members plus other Southern Baptist Disaster Relief teams.
Jacksboro steps up: salvations and a cross
In the Jacksboro area, an SBTC DR quick response mobile kitchen cranked out meals for volunteers and first responders and was relieved by a second QRU the week of March 27. An SBTC DR recovery unit from Bellville was joined by a team from Arkansas DR. An SBTC DR shower/laundry unit arrived on site March 26 to serve volunteers and the community. Live Oak Baptist Church in Jacksboro housed DR crews.
Mike Phillips of Bellville called the deployment "unusual," praising the community. Often a municipality will organize debris removal, he said, but in Jacksboro, neighbors stepped up.
"It was heartwarming to see all the townspeople out to help their neighbors. We don't always see that," Phillips said, adding that the county district attorney even showed up with his own trailer to transport debris to the local landfill, while several father-son teams did the same thing. Football players from nearby Graham, Jacksboro's big rival, came to help, also.
At the home of a retired Baptist pastor, a large piece of tin roofing lodged in a tree. When Phillips asked if the homeowner wanted the metal removed, the wife declined and showed them why. On the other side, the tin represented a perfect cross and the couple wanted it to stay.
Terry Bunch, SBTC DR chaplain from Haskell, told of a callout to an address off U.S. 380. He expected a damaged structure but saw only a slab remaining.
Bunch toured the property with homeowner Miguel, who spoke of rushing home to load his wife and young children in a pickup after the tornado warning sounded. They escaped but returned to find only a pile of rubble where a small home, a chicken coop, and dog pens once stood.
Miguel told Bunch of his dreams for the land, now shattered. He had only five years left to pay on the mortgage and now he would be paying on nothing. The family was staying in a small RV pulled to the site.
"I love my family. I wanted to build a nice life for them here in this community," Miguel said. Talk turned to spiritual things.
"I just can't pray. I don't know what to say," Miguel said.
Bunch discussed the gospel with the young man and together they perused a Send Relief tract on hope in crisis. Bunch asked Miguel if he would like to make a decision to follow Christ.
"Let me see," Miguel replied. He read through the booklet silently and suddenly stopped, removed his cap, and prayed the prayer written inside aloud. He continued praying aloud for his family, the people affected by the tornado, thanking God for sending so many people to help them.
"Only 10 minutes before he had said he could not pray anymore. Soon he could not stop," Bunch said.
In addition to talking with homeowners like Miguel, Bunch and other SBTC DR volunteers assisted the local elementary school, helping escort first and second graders from the bus to their temporary classrooms at First Baptist Church of Jacksboro. The elementary school was damaged by the tornado; the high school gym was destroyed.
Homes crushed, hearts restored in Gilmer

Meanwhile, in the Gilmer area, SBTC DR incident leader Debra Britt of Flint similarly praised the involvement of the community and especially New Beginnings Baptist Church in relief and recovery operations there following the tornadoes.
Quickly after the storms, New Beginnings opened a distribution center for food, water, paper goods, diapers, and other supplies at its Gilmer campus, Britt said.
Initially, SBTC DR units were headquartered at the church, but on March 26, they and the distribution center moved to the nearby Yamboree Event Center.
A QRU manned by Fredye Quain of Athens, fresh from a deployment to serve fire survivors in Carbon, quickly established operations in Gilmer, preparing hundreds of meals for the community and volunteers, including 825 meals on March 26. In addition, local restaurants supplemented the feeding, Britt noted.
New Beginnings members transported meals to homes throughout Upshur County, Britt added. "They are doing a great job organizing and fielding the calls and trying to meet as many needs as they can," she said of the church.
A second QRU staffed by Ronnie and Connie Roark of San Antonio rotated in March 27. The Roarks started preparing 250-350 meals per day.
In addition to the QRUs, SBTC DR assessors, recovery volunteers, an incident management team, shower workers, and Texas Baptist Men volunteers served at Gilmer. Volunteers were housed in an SBTC bunkhouse.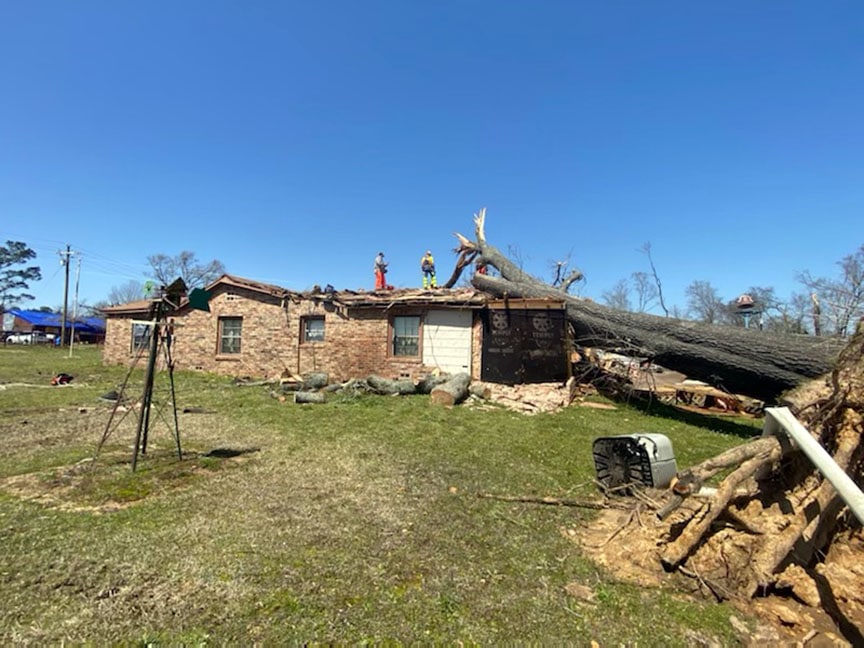 As in Jacksboro, Gilmer community members stepped up to help their neighbors. Chainsaw work is dangerous, and SBTC DR chainsaw crews worked on the more challenging jobs, including handling a massive fallen oak tree that partially crushed a home. Veteran Paul Easter's crew got to work.
"The whole back of the house was destroyed. The homeowners told us insurance had totaled it," Steve Adcock, SBTC DR chainsaw team member, said. The family was still living in half the home and the roof was "very unstable," he added.
The tree penetrated the house to its slab, Adcock said. Large limbs, two feet in diameter, filled half the home. The crew removed as much as they could, preventing a cave-in of the remaining roof.
Another job brought eternal benefits, Adcock said. His team, accompanied by chaplain Vince Rowe, worked on the property of a homeowner whose yard looked like a "war zone," with downed pine trees strewn about.
Several large limbs had punched through the home's roof, which was so steep that a roofer had refused to tarp it.
"We had the lift," Adcock said, "so we tarped the house." The grateful homeowner thanked them profusely. Throughout the day, Rowe talked with the homeowner, a Mormon whose wife was a Baptist. The man accepted Christ as his Savior. He even asked Rowe to return to talk to his children.
"What's happened here is a tragedy, but if your salvation came out of it, it was worth it," Adcock told the homeowner after referencing Romans 8:28.
The man agreed, Adcock said.
"You never go [on deployment] that you're not blessed as much or more than you help others," Adcock said.
The Gilmer site was expected to demobilize March 30, SBTC DR Director Scottie Stice said.
Grayson County and Romania
In other SBTC DR news, an SBTC bunkhouse was deployed to Sherwood Shores Chapel in Gordonville in Grayson County on March 26 to house TBM volunteers.
The first multi-state SBDR team including two SBTC DR volunteers departed for Romania on March 23 and began working at the refugee center along the Ukrainian/Romanian border the following day. A second team with SBTC DR volunteers departs for the area on March 30. SBDR teams from Arkansas and Alabama are scheduled to follow, Stice confirmed.