IRVING—Hundreds gathered in groups praying for people with children who are far from the Lord. Standing-room-only breakout sessions about the inseparable link between prayer and evangelism. Report after report of physical, emotional, and spiritual healing at churches where desperate cries to God have been sent up in increasing numbers.
Though only a small sample, this year's Southern Baptists of Texas Convention Empower Conference—which annually champions evangelism—seemed to indicate a growing hunger among Texas churches for experiencing God's presence and power through prayer.
"Father, it's good to see one another, good to spend time with one another," SBTC Executive Director Nathan Lorick prayed during the conference's Monday evening session, "but it's wasted time if we don't seek your heart tonight. We seek a movement of your Holy Spirit among us … that we would be a desperate people desperately crying out to you."
At last November's SBTC Annual Meeting, Lorick challenged churches to begin weekly prayer gatherings. The announcement came four months after he led 50 SBTC pastors on a trip to the Brooklyn Tabernacle in New York, where they learned from Pastor Jim Cymbala about developing a culture of prayer. The 2023 annual meeting is already being promoted as an event that will celebrate "25 years of answered prayer."
During several of Empower's breakout sessions, attendees heard of spiritual movements happening at churches that made fresh commitments not to new programs or better strategies, but to seeking the face of the Lord at the expense of all else.
"We're not leading our churches to pray," said Nathan Lino, senior pastor at First Baptist Church of Forney. "We're trying to lead our churches to seek, and to find, and to sit in the manifest presence of Jesus. … When He manifests, we're like sponges. We soak Him up and become filled with Him. We're surrounded by Him, overcome by Him, overwhelmed by Him. And then everything changes."
Two more pastors, Todd Kaunitz of New Beginnings Baptist Church in Longview and Jason Paredes of Fielder Church in Arlington, used a portion of their joint breakout session Tuesday to give personal testimony about how Jesus changed everything in their contexts when they decided to focus on seeking His manifest presence.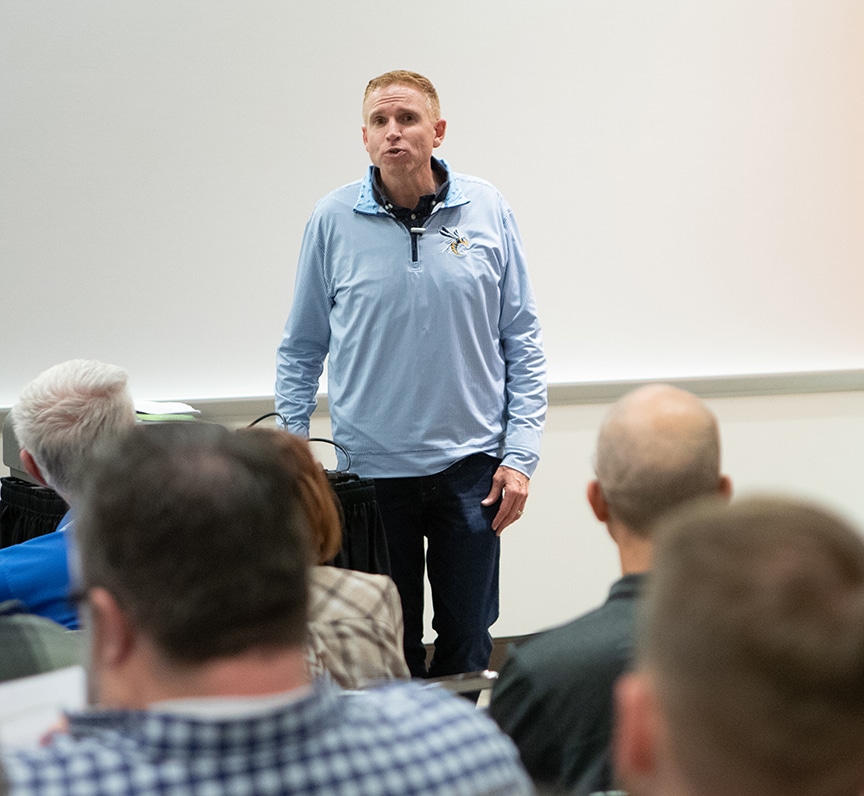 Kaunitz, whose church has been hosting weekly prayer services for two years, said he has seen an unprecedented movement of God at New Beginnings over the past two weeks. During a stretch of recent nightly prayer meetings, more than 40 people made professions of faith, 84 were baptized, and hundreds publicly confessed sin and saw various types of relationships restored.
All that, he noted, happened despite not preaching a single sermon during those prayer gatherings.
"You know why? Because God is speaking through my people to my people," said Kaunitz, who also serves as SBTC president. "Here's what I'm learning—if prayer becomes the beginning of the mobilization … the movement won't be fostered by manipulation. It will be something that's authentic because it's a work God is doing in the hearts of our people. You cannot take shortcuts to creating an evangelistic culture in your church. An evangelistic culture in your church starts on your face before the Lord."
Since beginning its prayer initiative in March 2022—an effort that has included the addition of a weekly prayer meeting—Paredes' church has seen countless lives changed. Hundreds have been baptized and miracles have been celebrated, including two verified cases of people being healed after receiving a Stage 4 cancer diagnosis.
"We're going to see well over two to three times more baptisms by the end of this year than we normally see over any given year, and we have done nothing different," he said. "It's the same preachers, the same programs, the same activities. Nothing's changed—except we're praying like we've never prayed before and we're seeing God move like we've never seen Him move before."
Showing breakout attendees a sign depicting a person bowed in prayer with the words, "Make War on the Floor" printed above, Paredes—a self-proclaimed workaholic—said the Lord impressed on him that he needed to work less and allow Him to work more.
"Prayer is the means by which we go on the offensive," Paredes said. "Prayer is not the preparation for spiritual war. Prayer is the war."